I'm back with the melting crayons today but the final result is very different from the melted crayon tree decorations. These are glass baubles with crayons melted inside them and the result is quite grown up and elegant. I did these melted crayon glass ornaments when my children were 3 and 5 and really it would be better with older children. Cutting up the crayons is easier with a big knife and the baubles get quite hot and are fiddly to hold with gloves on. If you're interested in creating teacher gifts have a look at my posts about seasonal process art.
This post contains affiliate links (identified with a *) I earn a commisson from qualifying purchases
Equipment to Make Melted Crayon Glass Ornaments
First off you'll need some clear glass baubles* with a removable stem. I struggled to find these in the shops. Everywhere had plastic ones, you could try them but I'm not sure they wouldn't melt, or at the very least warp when the heat of the hairdryer is applied. I ordered mine from Amazon in the end but I believe Hobbycraft sell them.
You'll also need a hairdryer, some gloves (ideally the ones with the pimple grips), a fairly sharp knife and crayons in a selection of colours. Yet another use for the restaurant freebie crayons that have been cluttering up your hand bag for months, you're welcome. If you don't already have some, the Crayola* ones do melt the quickest but any crayons will work fine.
Getting Started with your Melted Crayon Ornaments
First you'll need to peel the labels off your crayons. An easy job if you have long beautiful talons, a pain in the proverbial for the rest of us. The sharp knife can be used to help. Once they are peeled they need to be cut in to small pieces, ideally 1 or 2 centimetres long.
The children can help with this depending on their age, my children were around 5 and managed with close supervision. They were excited to use a "grown up" kitchen knife! You might find they aren't able to get the pieces quite small enough so you can always let them half each crayon and then do the smaller pieces yourself. Really young ones can try snapping the crayons in half.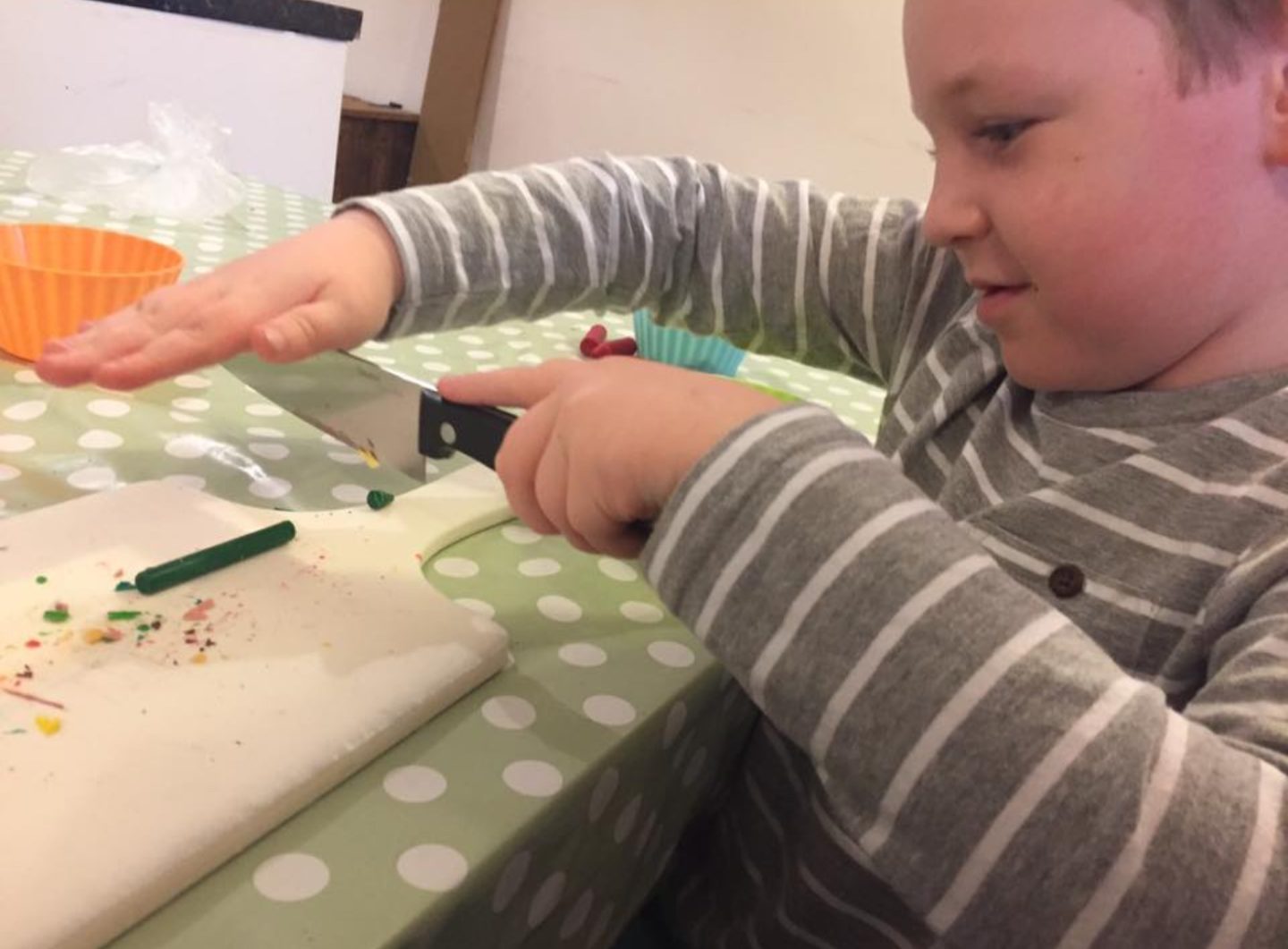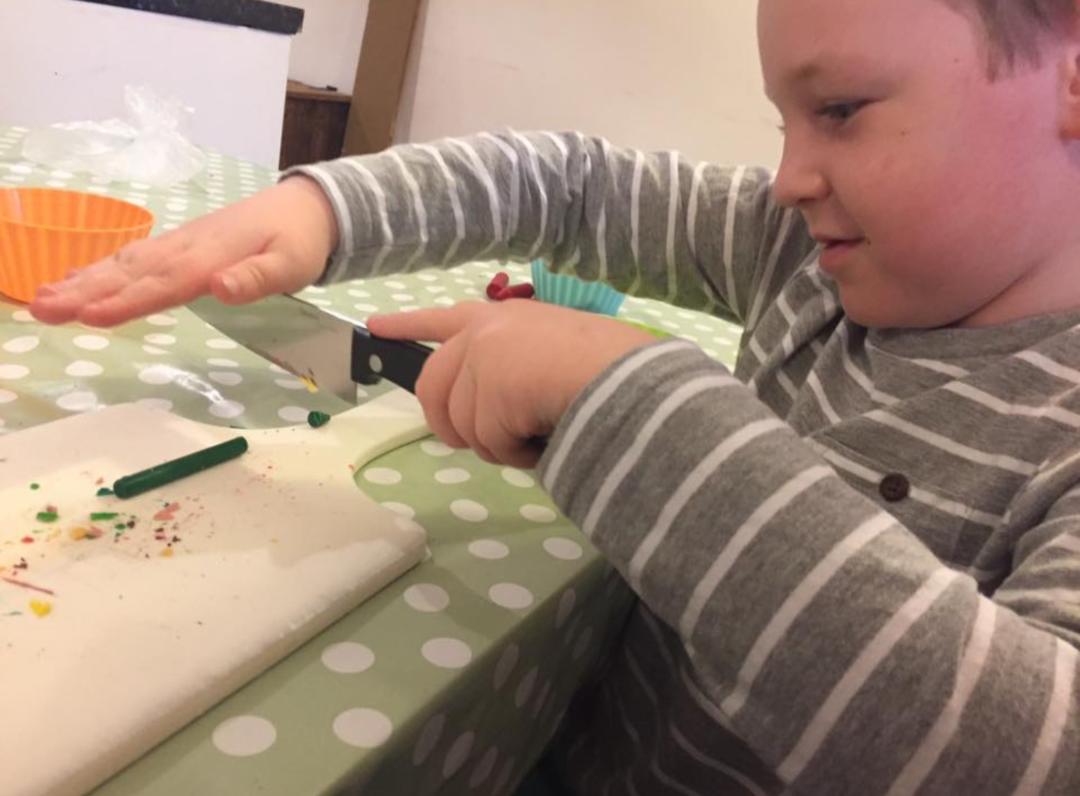 Next you'll want to group them in to sets of colours that go well together. I'm partially colourblind and have no colour coordination so I'm sure you can do better than me. Your kids will want to combine them all hoping for a multi colour rainbow effect. I would discourage this as the result is likely to be sludge coloured crayon bauble. The best results come from contrasting colours. If you use colours that are too similar then the results will be a bit wish washy.
White Crayons can also be added to good effect, they create a nice contrast with darker colours but not all crayon sets will include a white.
Once you've planned your colours, remove the stem from the bauble and pop them inside. You don't need a huge amount, 4 or 5 pieces in total is usually enough. Pop the stem back on to stop the crayons falling out during the melting process.
Melting the Crayons in the Baubles
You'll initially think that you don't need to wear gloves, after all it's only a hairdryer. Two minutes in you will realise your folly and put them on. Hold the bauble carefully and use the hairdryer to melt the crayons inside. You need to gently moving it around to create a pattern. If you are happy with the effect before the crayon has completely melted you can just remove the stem and let it drop out of the bottom. They now need to dry. This is best done with the stem off. Ideally you would move them around a few times while they are drying to stop all the liquid wax pooling in one place. Realistically we all know that isn't going to happen because…life, you'll still get a good result anyway. You can also stand them up on their stems so that excess melted crayon will drain out of the bauble.
Once the melted crayon glass ornaments are dry you can pop the stem back on and hang them on your tree,.
We like to give ours as teacher gifts and to friends and family from the children. Or if they're really awful offload them on Great Aunt Betty. Don't forget to check out my other posts about melting stuff at Christmas, Melted Bead Christmas Tree Decorations and Melted Crayon Christmas Tree Decorations. If your not so keen on melting, you can also check out our alcohol ink baubles.
Enjoyed this Post? Why not pin it for later!