Every year, the kids and I wreck the dining room creating handmade Christmas decorations for them to give their teachers (yes, I'm that tight). We generally use some kind of process art technique to create them as I like the freedom it gives. Alcohol ink is one of my favourite process art materials and last year we had a go at making alcohol ink baubles, here's how we got on.
This post contains affiliate links (identified with a *) I earn a commisson from qualifying purchases
Equipment you'll need
Preparing the baubles
While you can leave the baubles clear, the effect is more striking if you paint the insides white to start with. If they are plastic baubles they will usually separate so you can simply paint the insides and leave them to dry. If you're using glass baubles you'll need to pour in a small amount of paint (I'd suggest using a funnel) then swirl it around to coat the inside. As this bit is messy and boring I did it without the kids but there's no reason they couldn't do it if they are sensible.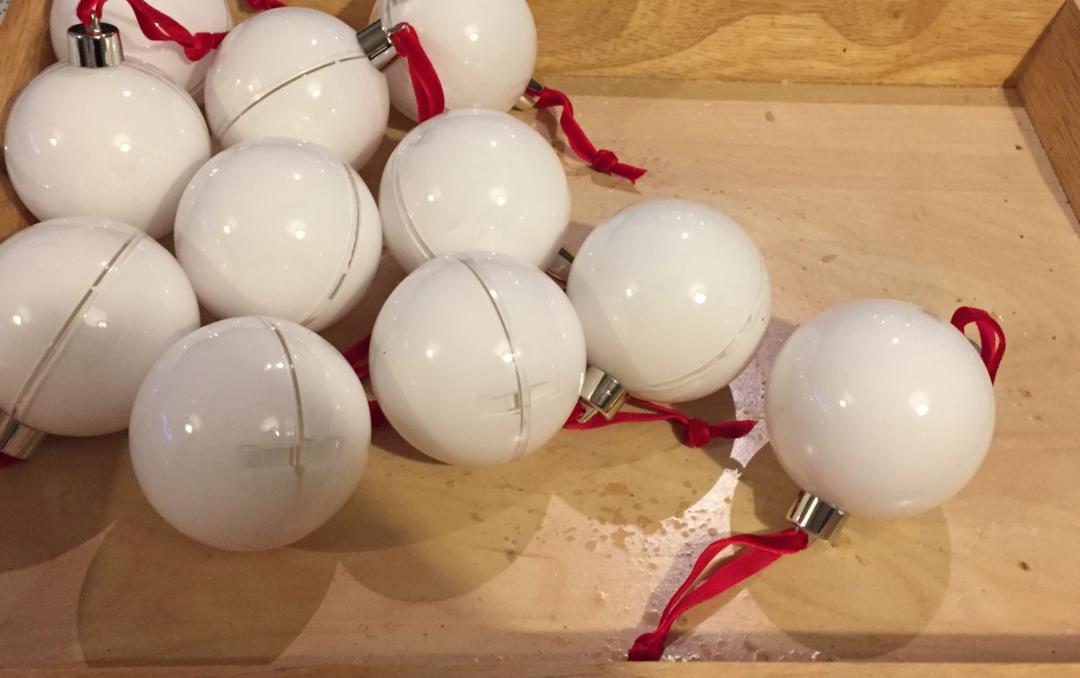 Creating the alcohol ink baubles
We experimented with using different numbers of colours on the baubles. Despite the kid's being keen to use all the colours on every bauble, we found two was the most effective. Drip some alcohol ink onto the applicator and then press it against the bauble in a random pattern, leaving space for the other colour. Using a clean applicator pad, repeat with the other colour. You should end up with an attractive marbled affect.
If you don't like your results, you can remove the alcohol ink with rubbing alcohol* and start again.
The ink dries very quickly so you can just hold them for about 30 seconds and then they'll be fine to put down although they will remain slightly sticky for a little while, they won't smudge.
Using the alcohol ink baubles as gifts
If you plan to use the alcohol ink baubles as gifts like we did then it's nice to put them in gift bags*. If you really like your child's teacher you can get the kids to decorate the bags too (and if you don't like them, let them use lots of glitter).
If you'd like some other ideas for making handmade tree decorations check out our other seasonal process art projects including melted crayon Christmas tree decorations and Nail Polish Marbled Christmas Baubles. If you're looking for homemade teacher gifts, how about these great bath salts? If you're looking for other alcohol ink projects, how about these alcohol ink coasters?
Enjoyed this post? Why not pin it for later!