Becoming a work at home mum (or WAHM) is a goal for a lot of mums. Traditional jobs often lack the flexibility that parents need to be there for their children and childcare costs can outweigh the benefits of working outside the home. When I became a work at home mum it seemed quite a natural step, as my mum was a work at home mum. She wasn't self employed but the solicitor she worked for as a legal secretary was progressive enough to let her take her typing away and do it from home. She was a bit like an early virtual assistant before we had all the tech to make it easier. Twice every week she would travel to and from the office carrying massive laundry bags full of files. Luckily my work at home mum life is a bit simpler.
My Employment History
I've wanted to be self employed for as long as I can remember. Before I even had a job I was reading books about escaping the corporate grind. Although I studied business for my degree I didn't really feel ready for self employment when I finished and, after a false start as a Careers Adviser (which I hated), I became a librarian. I loved working in libraries but hated the bureaucracy and office politics. I worked in public libraries which I enjoyed, but always wanted to try academic libraries.
After I had Boy Child I was offered a part time, term time only job in a college library. It seemed perfect and while I did enjoy it, I realised it was still a job and there in lay the problem. When I went on maternity leave with Girl Child I decided to really focus on finding something I could do self employed.
When I first Became a Work at Home Mum, it was a Disaster

What I came up with was baby classes. I loved taking my kids to classes, swimming, music, sensory, we did all sorts. Running classes where I could take my children with me seemed to be the perfect work at home mum solution. I narrowed my choices down to either a Baby Signing classes franchise or starting my own classes based around books. I wasn't entirely comfortable with the terms of the Tiny Talk contract so decided to go it alone.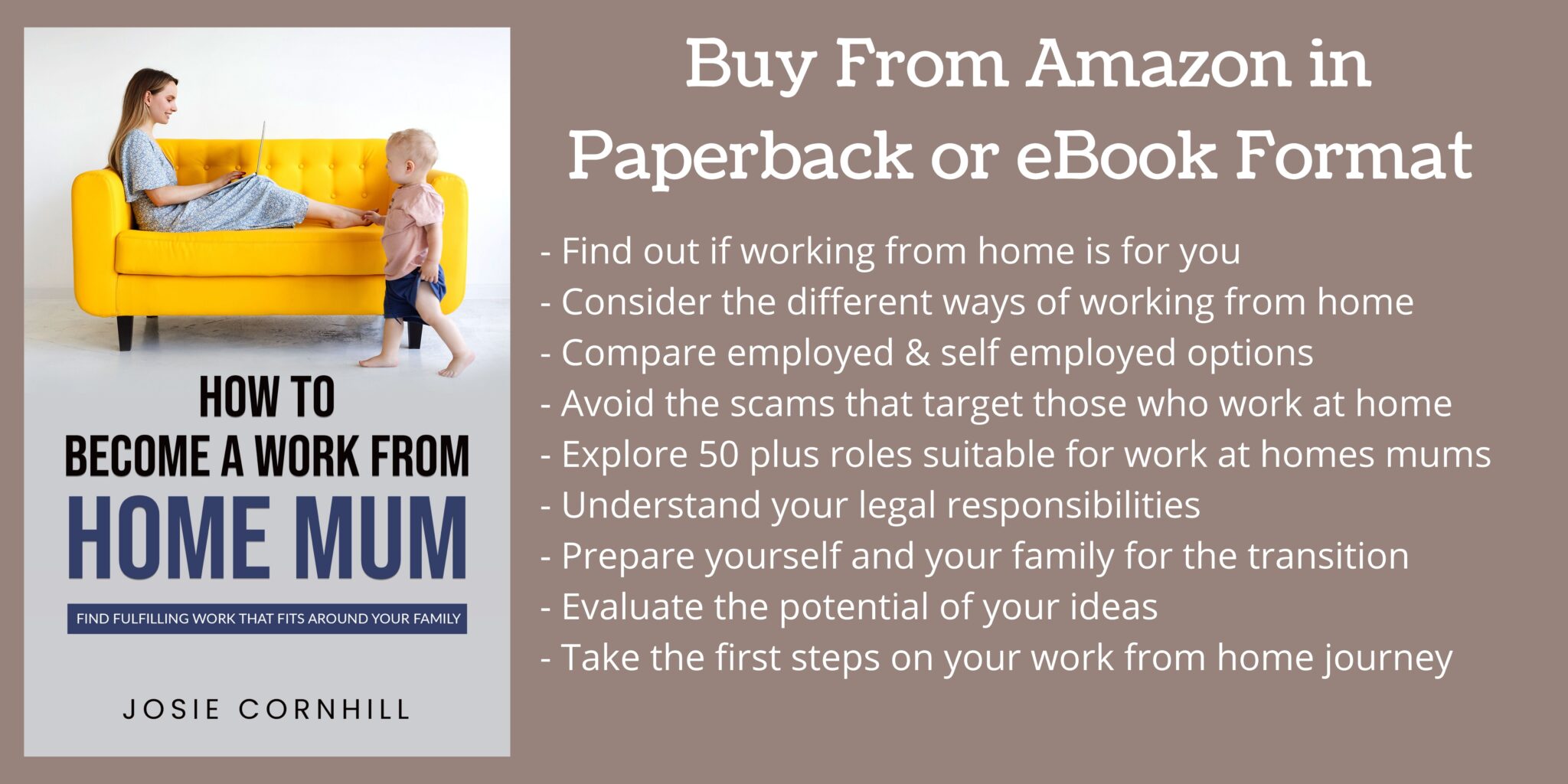 It was a disaster. I have a habit of ignoring facts when they aren't convenient and I had ignored Several. I don't like children. Or speaking to groups. Or singing in public. To cut a long story short, I managed two terms before accepting it really wasn't for me. Had I just been struggling to fill the classes I would have persevered. The fact that I wasn't enjoying it told me I'd never really make a success of it. It's really hard when a business fails but I didn't let it put me off. When I worked in libraries I applied for loads of jobs that I didn't get and think that thought me resilience. I also found that failing didn't feel as bad as I thought it would. Since then I've been less scared of failure and more willing to give stuff a try.
Finding Something I loved
This effectively left me unemployed, with little money left to invest in something new and no idea what that would be anyway. What I was sure about was that I didn't want to go back to having a job. One day I was scrolling through the franchises listed on Netmums, I saw Mum2mum Markets. They are baby and Children's Nearly New Sales and the description of what was involved was right up my alley. Planning, organising and marketing (which was the only part of the baby and toddler classes I really liked). I got in touch with the franchisor who is also a Work at Home mum), and was up and running in a few months.
Luckily this time I'd got it right and love running the sales. I've been doing it for four years now and I still love it. I have loads of wonderful regular buyers and sellers as well as the support of the other franchisees. Sale days are my favourite, there's such a great buzz.
The early days were hard work, getting the name known locally took time. Boy Child was at preschool so, apart from the day a week she spent with grandparents, Girl Child and I spent our mornings visiting shops, nurseries, cafes and anyone else who would display our posters. It was tricky but we made it work. Over the years the children have visited venues with me, helped me hand out leaflets, put up banners with me and stuffed goodie bags for me. Now that they're older they come and help on sale day. Boy Child loves helping on the refreshment stall and Girl Child helps to move tables and chairs. Over the years I've expanded from 20 stall sales to 45 and my buyers numbers have continued to increase.
Finding Something else I Loved!
Once my children started school full time I had a bit more time for the work part of being a Work at Home mum. I considered what I wanted to do very carefully. There was no rush and I wanted to get it right. I'd always been interested in teaching but suspected my dislike of speaking to groups would ruin it for me. What I really wanted to do was teach distance learning.
It's a fairly new area so there isn't really a straightforward way in to it. I had an initial adult teaching qualification and had done some teaching here and there over the years, including some online stuff. My business degree and experience of running my own events based business would also be relevant. I put together a CV that focussed on these points and sent it out to all the distance learning companies I could find. And it worked.
I'm now a freelance tutor on level 3 distance learning courses. Students study the course materials and then upload their work to the system, were I access it. I then mark it and send it back with my feedback. I'm really enjoying it and fits nicely into my portfolio of roles alongside running Mum2mum Market, blogging and looking after the children. Sorting out Summer holiday childcare can be tough but even then, I have the flexibility to manage.
The Future
It hasn't been a straightforward journey to becoming a work at home mum but I'm really happy with where I've ended up. I definitely never want to be an employee again. When people ask what I want to be doing in ten years, it's really just more of the same! I'd quite like to get involved in the design of course materials for distance learning. I'm also really enjoying writing again so perhaps I'll work on a book at some point. Essentially, I suspect I'll still be a work at home mum, Just one with teenage children!
Tips on Becoming a Work at Home Mum
If you don't have a particular idea in mind, consider a franchise. It's a great way to run a business without having to have that "lightbulb moment"
If there's something you've always wanted to do, is there a way you could do it from home? Either freelance or as your own business
Have you got a skill you could offer on a freelance basis? This could work well as long as it's something you really love doing.
Isolation can be an issue, even if you're an introvert, so think about you'll maintain some adult conversation in your days.
Dont worry about what you don't know. As long as what you want to do doesn't require a specific qualification, the internet and the library mean you'll be able to teach yourself what you need to know.
Remember, you can do more than one thing. "Portfolio Careers" are becoming more and more common, particularly among work at home mums. If something you fancy won't earn you enough, consider combining it with something else.
Think about the skills you want to use, if you're the organised type, check out these ideas.
Or have a look at these 50 Work from Home Jobs for Mums
Want to know more about what it's like to be a work at home mum? Read about The problems with working from home with a toddlers.