Everyone knows that the days of a "job for life" are long gone. We live in a world of redundancies, outsourcing and zero hour contracts. For parents, a traditional job is often not realistic due to the lack of flexibility and the cost of childcare. For all of these reasons, we are starting to see the rise of the portfolio career. I have one, and I love it! It's a great option for work at home mums. I've highlighted the benefits and disadvantages below but if you're after the portfolio career ideas head straight to the bottom.
What is a Portfolio Career?
A portfolio career involves combining a number of different income streams to make up your "job". They might all be self employed, they might all be employed roles or they could be a combination of both. For some they include passive income streams like investments too.
Let's be clear though, a portfolio career should be a choice, something you do because the style of working suits you. Working three jobs and over a 60 hour a week to make ends meet is not a portfolio career.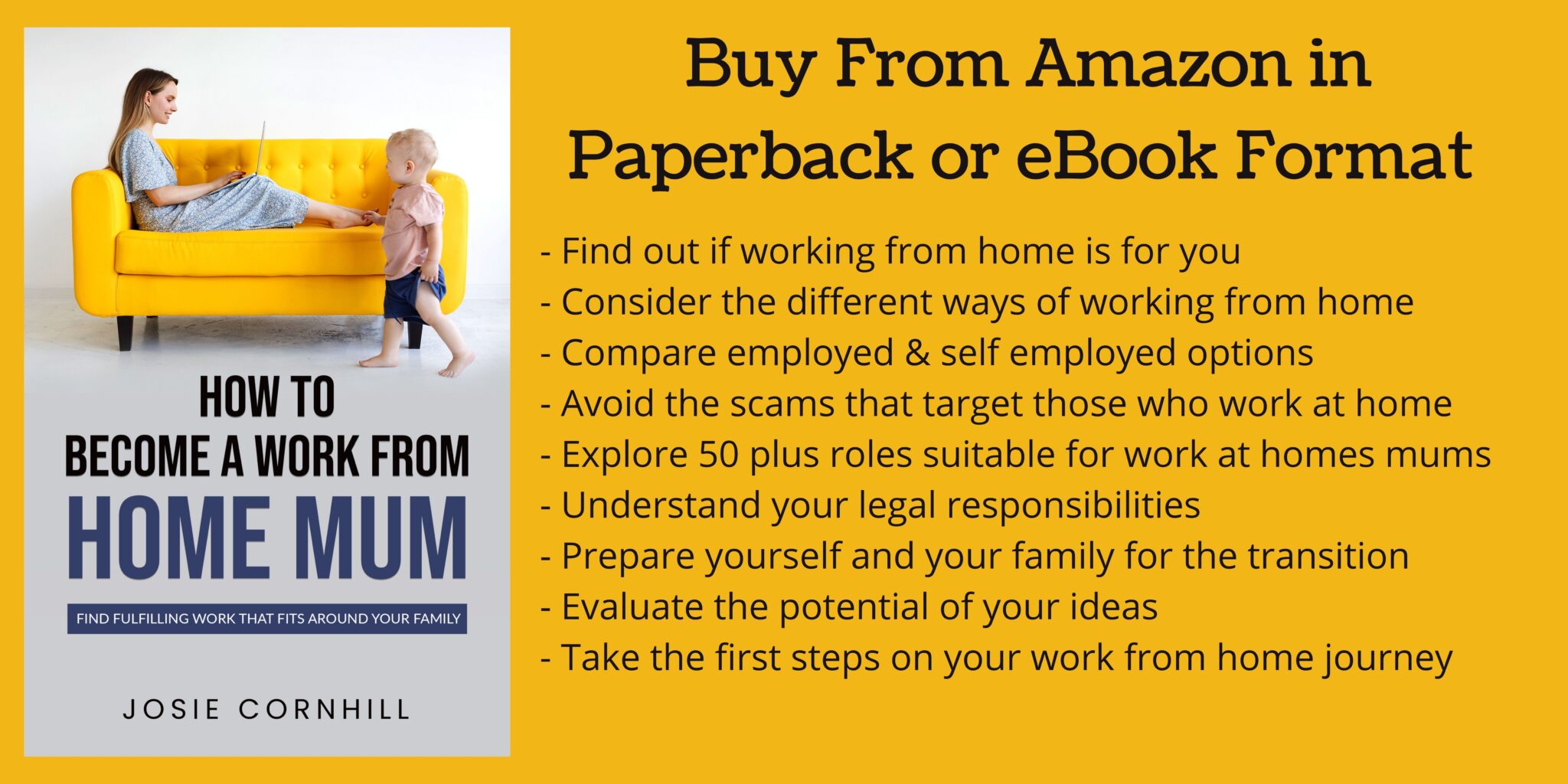 How I Ended Up with a Portfolio Career
I've always been interested in lots of different things. My first career was as a careers adviser and, while it turned out not to be for me, I think it was the idea of talking about different jobs all day that originally appealed to me. When I was employed I was always on the look out for the next opportunity and it was when I reached the point where there were no new opportunities, I decided to become self employed. I've been self employed for 5 years now and my portfolio of careers has developed over that time.
How my Portfolio Career Works
I currently have 3 careers in my portfolio. Baby and children's nearly new sales, distance learning tutoring and blogging (both this blog and Business for Mums). Over time I've found the best way to fit them together.
When I first started tutoring, I was assessing work and answering questions as soon as they were submitted. I quickly realised this made it feel as if it was taking over my life. I now assess and answer questions 3 days a week, Mondays, Wednesdays and Fridays. This keeps it from distracting me from my other work while still making sure that learner's work is returned quickly.
My nearly new sales are seasonal to some extent. I run six a year, with long breaks over Christmas and the summer (very handy for school holidays!). Each sale has a six week lead time and I have a list of jobs that need to be done in each of those weeks. The last week before the sale is always hectic so I try to minimise my other commitments (as well as the boring stuff like cleaning!) in that week.
My blogging work is flexible enough to fit in around everything else. It's the most creative of my careers and probably the one I spend the most time thinking about. If the rest of my workload is light then I'll get lots of draft posts written so I can then publish them at times when I have a lot going on. I also try to schedule much of my social media in advance so I don't have to worry about it when I'm busy.
The Advantages of a Portfolio Career
For me, there are three main benefits to having a portfolio career over a traditional job. The first is the flexibility. I can arrange my work so that I can attend all of the children's school events, when they were smaller I could work when they were sleeping. If the school calls me because they've been sick I can go and get them and a snow day isn't the end of the world. Even in the holidays, I can find creative childcare solutions that wouldn't work for someone in a traditional role.
The next benefit is having multiple income streams. Being self employed can mean an unpredictable income. By having multiple income streams I can be pretty confident that I won't lose them all at once. Even in a traditional job there is always the risk of redundancy but I'm never likely to become redundant in all of the things I do.
This last benefit is also the most important for me. I don't get bored. When I was employed I was always looking to progress and that wasn't because I wanted more money or status, it's because I was bored. Having three different careers (as well as the option to change them or add more) means I'm never bored and for me that's the key to a happy work life.
The Disadvantages of a Portfolio Career
Let's start with ALL the social media. Luckily only two of my careers involve me using social media but believe me, that's enough. I have 4 Facebook pages, 4 Twitter accounts etc. I also have a crazy number of different email accounts.
There are times when, despite my careful planning, all of my careers need my attention at the same time. If I'm really unlucky, the children need me too. It doesn't happen often but when it does it definitely leads to overwhelm.
The other issue is focus which is a two part problem. The first part is the loss of productivity when you change from focussing on one task to focussing on another. With 3 roles this happens a lot in the average day. The other part is whether I am giving each thing the focus it deserves. There are days where I just want to throw myself in to one thing but can't because I still need to keep on top of the others and that can be hard.
Despite those disadvantages I wouldn't have it any other way. For me, a single career never really satisfied me so a portfolio career has opened up a whole new world of possibilities.
Types of Work that Can be Good for a Portfolio Career
When considering what might fit into a portfolio career, there are some types of work that fit better that others. Types of work that are a good idea for a portfolio career include:
Seasonal Work
Zero Hour Contracts (as long as you don't have to work when they call)
Freelance work
Part time jobs with low numbers of hours
Employed jobs with annualised hours
Self employed work where the goal is passive income
Investments
Work that doesn't have deadlines
Portfolio Career Ideas
While nearly any job can fit into a portfolio, the portfolio career ideas below are ones that offer a lot of flexibility so work well.
Blogging
Hiring out items (like props or sweetie carts for weddings)
Selling items through third party websites
Virtual Assistant
Mystery shopper
Survey Taker
Matched Better
Distance Learning Tutor
Event Planner
Writing eBooks
Freelance Writer
Proofreader
Indexer
Web Designer
Per Sitter
Pet Breeder
Cake baker
Balloon Artist
Furniture restorer/upcycler
Photographer
Tips for managing a Portfolio Career
Over the years I've made plenty of mistakes and learnt a lot so here are my tips for managing a portfolio career.
Plan Your Time in Advance
Set time aside each week for planning the next week. Look at what work you need to do and allocate time to do it. if you have some elements in your portfolio that need the same work done each week or you have job in your portfolio with set hours you can start with those and work from there.
Don't Add too Many New Things at Once
When you have a great new portfolio career idea it's easy to get over excited and want to get started straight away but you need to make sure that everything else in your portfolio is established enough to be able to come with you focussing your passions on something new.
Be Protective of Your Time
There's every chance that people won't consider what you do to be a "proper job" so you'll need to stand firm to protect your work time from the demands of others to other things like go for coffee of do them favours. This is also true of yourself. Your money earning work is more important than the hoovering.
If you're interested in developing a portfolio career, check out these great work from home jobs for mums.