These tissue paper dyed Easter eggs are a really beautiful Easter process art for slightly older children that a friend showed us how to do. You could have a go with younger ones if they are capable of being gentle enough not to crush the eggs. Alternatively you could do it with egg shaped pieces of paper. If you can only get brown eggs then you can still have ago but should stick to bolder colours of tissue paper to make sure the colours show up.
This post contains affiliate links (identified with a *) I earn a commisson from qualifying purchases
What You Need to Make Tissue Paper Dyed Easter Eggs
Eggs – Ideally white but you can have a go with brown as described above
Tissue paper – Not all tissue paper is suitable, you need one that bleeds, we used this one* but you can check any you already have by dipping it in water, if the colour comes off on your fingers it will work
A pin – or other sharply pointy thing to make a small hole in the egg
A cocktail stick – to break up the egg
A large bowl – to blow the egg into
A small bowl of water – to wet the tissue paper
A protective cover for your table – once wet, the tissue paper will stain everything it comes into contact with
To Display the Eggs You'll Also Need:
Cocktail Sticks
Cotton
Tree Branch or bowl
How to Prepare the Eggs
With your egg sitting in the egg box, tap the top with the pin until you make a small hole, use the pin to make the hole a bit bigger then have a poke around inside the egg with the cocktail stick. The idea is to break up the yoke to make it easier to blow.
Next, turn the egg over and and repeat the process, but make the hole slightly bigger.
Now you're ready to blow the egg, hold it carefully over the large bowl and gently blow the top hole. The egg should start coming out of the bottom hole. If you want to be hygienic about it, particularly if you plan to use the egg afterwards (scrambled eggs is the easiest thing to do with them) then you can place a straw over the hole and blow through that.
If you're having trouble getting anything out, have another poke around inside with the cocktail stick to make sure the egg is broken up. If you still have no success try increasing the size of the bottom hole.
Dying the Easter Eggs with Tissue Paper
Once your eggs are ready, you'll want to prepare your tissue paper. Choose the colours you want to use tear them into small squares, about 3cm by 3cm.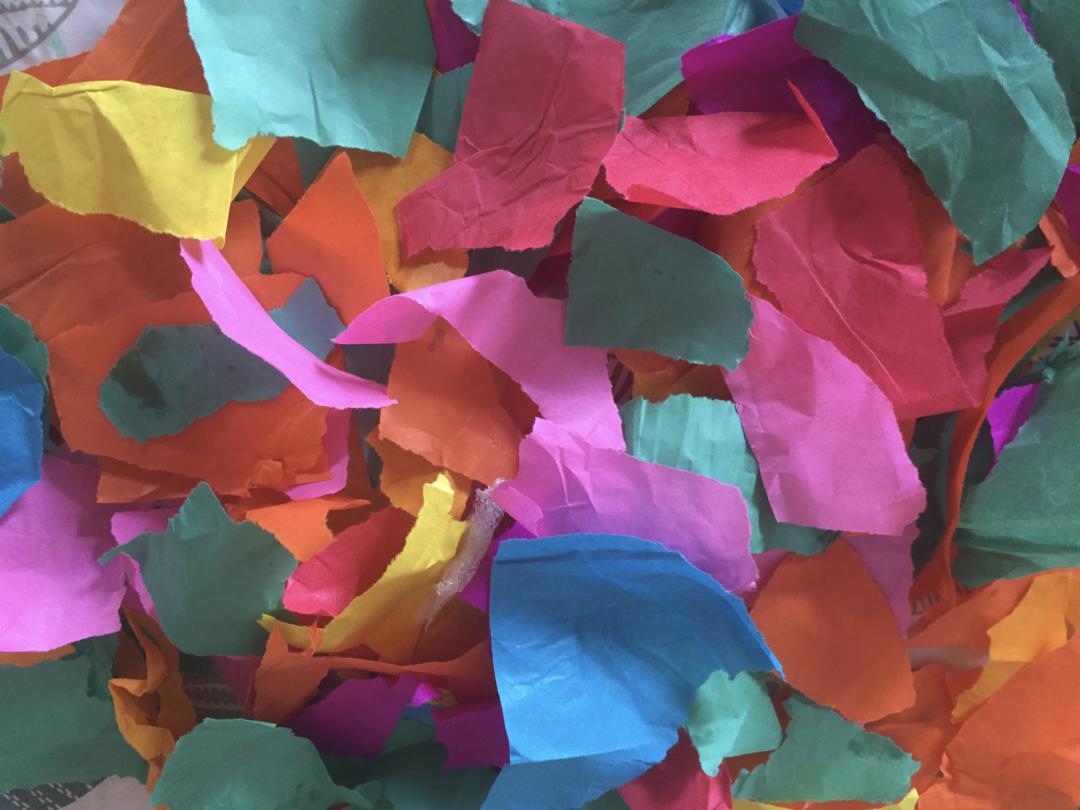 To start decorating the Easter eggs, dip a piece of the tissue paper in the water and then place it on the egg. Continue adding tissue paper until all of the egg is covered. Leave them to dry, you can take them off after about 30 minutes but will get stronger colours of you leave them until the tissue paper is completely dry.
Displaying your Tissue Paper Dyed Easter Eggs
In order to hang your egg, use scissors to snip the cocktail sticks in to small pieces. Tie a length of thread around each one then post them though the hole in the top of the eggs. They will end up laying horizontal to the hole to won't come up.
We found a fallen branch which we stood up in a vase using earth from the garden and then hung our eggs on it but you could tie them up around the house even just display them in a bowl.
If you're looking for other Easter process art ideas check out our melted crayon Easter cards. If you fancy an Easter activity where you get to eat the result, check out these flat Easter eggs.
Enjoyed this Post? Why not pin it for later!