While I'm not a big fan of crafts, I do love a bit of process art. These melted crayon cards for Easter  involve my number one favourite craft activity, melting stuff! They are simple to make but do require an adult to do the melting bit.
What you'll need to make melted crayon cards:
Some old crayons (the free ones you get for kids in restaurants are fine)
A pencil sharpener
A4 White card, folded in half to make a card
A4 Coloured or black card 
Greaseproof or baking paper
An iron
Scissors
How to make melted crayon cards
You'll need to start by peeling at least some of the paper off the crayons. This is so that you don't end up with bits of paper in the picture. Next you choose your colours (your kid's will of course choose a selection of colours which will make your eyes burn but we all know there's no point in arguing).
Now you're ready to sharpen the crayons over your cards so that they end up with covered in small pieces of coloured wax (along with you, the kids, the floor and any pet who happens to be passing). You may want to crush the wax bits up a bit smaller as that will make the next stage easier. It's up to you if you want a very dense covering or just a sprinkling. Each will give you a different effect but if your kids are doing it, it's likely want to plaster the whole thing.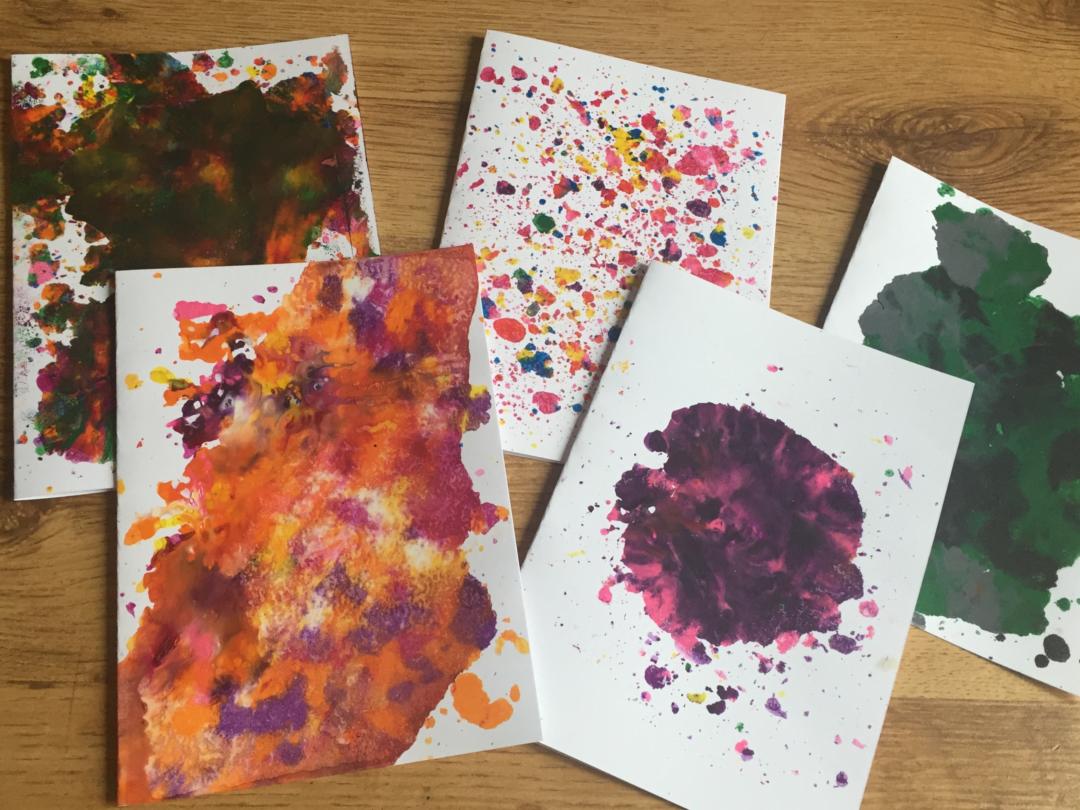 When this is done you place a sheet of greaseproof or baking paper over the card. Next, gently press an iron on it so that the Crayon melts. I would recommend putting a tea towel down rather than doing it directly on your ironing board, but then you might not be as messy as me. It took a bit of practice to get the right amount of pressure. If you smear them too much you'll end with a grey sludge effect (and your child will cry because you've ruined their work of art). If you don't press hard enough the crayons won't melt enough to stick to the card (and your child will cry because you've ruined their work of art).
Once that's done you can cut the black or coloured card in half, down to A5 size and cut a shape out of it. We were making Easter cards so I printed out some Easter shapes. I then cut them out to make a template to draw around.
You could do any shape you like to tailor these for a specific occasion. Boy Child made an army one using shades of green and grey crayon and a tank shape. Not sure what celebration you'd use it for but who I am to question his artistic intent. Once you've cut them out you can stick them on to your card to hopefully create a pretty effect.
Want to make something else?
If you enjoy melting stuff to create process art as much I do, have a look at out Melted Crayon Christmas Tree Decorations which can also be made in non Christmas shapes and used as party bag fillers.
Enjoyed this post? Why not pin it for later?