The annual visit to Father Christmas has changed a lot since I was little. In my day (the 80s in case you're wondering), visiting Father Christmas involved a drop in visit at the local shopping centre while you were there buying Christmas presents. These days, most places require advance booking (or in the case of Harrods last year, a special invitation), take hours and cost a day's wages. Every year I say "I'm not going to spend much this year" but this always changes when I think "They aren't little for long". Over the years we've done a few different things but for two years we have visited Gulliver's Land for the Santa Sleepover. Both times have been great so I thought I'd share it. This isn't a sponsored post, I was just so impressed that I wanted to spread the word.
If you like Santa Sleepovers you might also want to check out review of the Chessington Santa Sleepover.
Why The Gulliver's Land Santa Sleepover was Appealing
I'd heard of Gulliver's Land Theme Park in Milton Keynes before and fancied visiting because it was only just over an hour way from. When I saw their "Gulliver's Land Santa Sleepover" advertised I thought I'd check it out. I was immediately enthusiastic as the description just seemed to christmassy. The itinerary includes, one nights stay in one of the themed cabins (basically glamping), a festive evening meal, evening entertainment, breakfast the next day, a visit to Father Christmas, access to some of the rides, a Christmas show and a Christmas parade.
I was imagining a huge price tag but when I looked I was pleasantly surprised. The price for a mid December weekend was £199. Given that our local Zoo would have worked out at over £120 for the four of us it looked like excellent value. The second time we went we were able to get the midweek price by squeezing it in after the kids broke up from school and that cost just £99. The schedule is slightly different with the festive meal included being lunch rather than dinner, slightly less evening entertainment and no parade but that was still plenty for us. For 2020 they aren't offering any term time dates, just weekends and after schools break up, presumably because they are expecting lower demand. The cheapest date is the first weekend in December which is £199, still cheaper than most Santa Sleepovers.
The Gulliver's Land Indoor Splash Park
My children love water and there is an indoor splash park at Gulliver's land so we decided to arrive a bit early and spend an hour there before we checked in. Depending on the age of your children (mine were 5 and 7) you don't actually have to get wet if you don't want to. The whole place is enclosed and there is a dry area running along one side so you can keep an eye on them from there. If they are younger and need closer supervision you can just take your shoes off and walk around the splash park and (try to) avoid getting splashed!
My kids loved the place, as well as the splash zone there were water slides which my oldest really enjoyed. I'd definitely recommend a visit if you're doing the Gulliver's Land Santa Sleepover. The second time we went we squeezed it in at the end of day two and discovered it had been completely refurbished so the kids loved it even more.
The accomadation for the Sleepover
The friendly staff took all of our details then got us booked in for dinner and breakfast before walking us to our cabin. Gulliver's Land has lots of different types of themed accommodation including dinosaur, JCB, beach and jungle. For our first visit, we were staying in a Wild West themed cabin. For our second, we stayed in a DINO Den. The cabins have a patio at the front where visitors can BBQ in the summer months.
Inside it is tiny but really well thought out. There are bunk beds for the kids and a bench sofa that turns in to a double bed for the grown ups. Our cabins slept 4 but they do have bigger accommodation. There was a small toilet/shower/wet room plus a tiny kitchen area with a kettle, fridge and microwave. There was also a wall mounted heater, very important given there was snow on the ground for our first visit.
The Evening Entertainment
When we arrived in the dining room there was a lovely festive atmosphere. All the tables had Christmas table cloths and crackers and there were plenty of Christmas decorations. The food was fine, nothing particularly special but a bit like good canteen food. After dinner we headed upstairs for the disco, which was a bit like a children's party. It was very busy so we ended up sitting on the floor but the kids had fun.
After the disco everyone then got their coats on headed outside for some carol singing. Song sheets were passed around and after a bit of encouragement everyone joined in. The fire pit was then lit and everyone was given a stick and a marshmallow to toast. The adults were freezing but as usual the kids didn't seem to care. The final part of the Santa Sleepover evening entertainment was milk and cookies back in the dining room. While the kids enjoyed them they put on bedtime stories DVD. For our second visit, marshmallow toasting was available as a drop in activity, there was a disco in one of the party rooms, there was a duo singing Christmas songs in the restaurant and the evening ended with a Christmas film and milk and cookies.
The Sleepover
We then headed back to our cabin for the actual Sleepover. I was worried we'd be cold, I'd intended to bring extra blankets but forgotten however we were all toasty warm in the night although getting up in the morning was pretty chilly!
On our first visit, breakfast was back in the dining room. There was a buffet full English breakfast as well as cereals plus juices and tea or coffee. It was all at good "greasy spoon" standard. For our second visit breakfast was served in one of the theme park restaurants and was set as a roll with sausage pattie and a hash brown or cereal. It wasn't as good as the full English but was still fine. There was also couple of characters walking about and my youngest really enjoyed interacting with them.
Visiting Father Christmas
The first time we went, we had to queue for about 20 minutes to see Santa but we were queueing in the winter wonderland walk through so the kids were entertained. The mid week break was quieter and we only had to wait a few minutes. Santa himself was lovely and chatted happily to the children without making us feel rushed.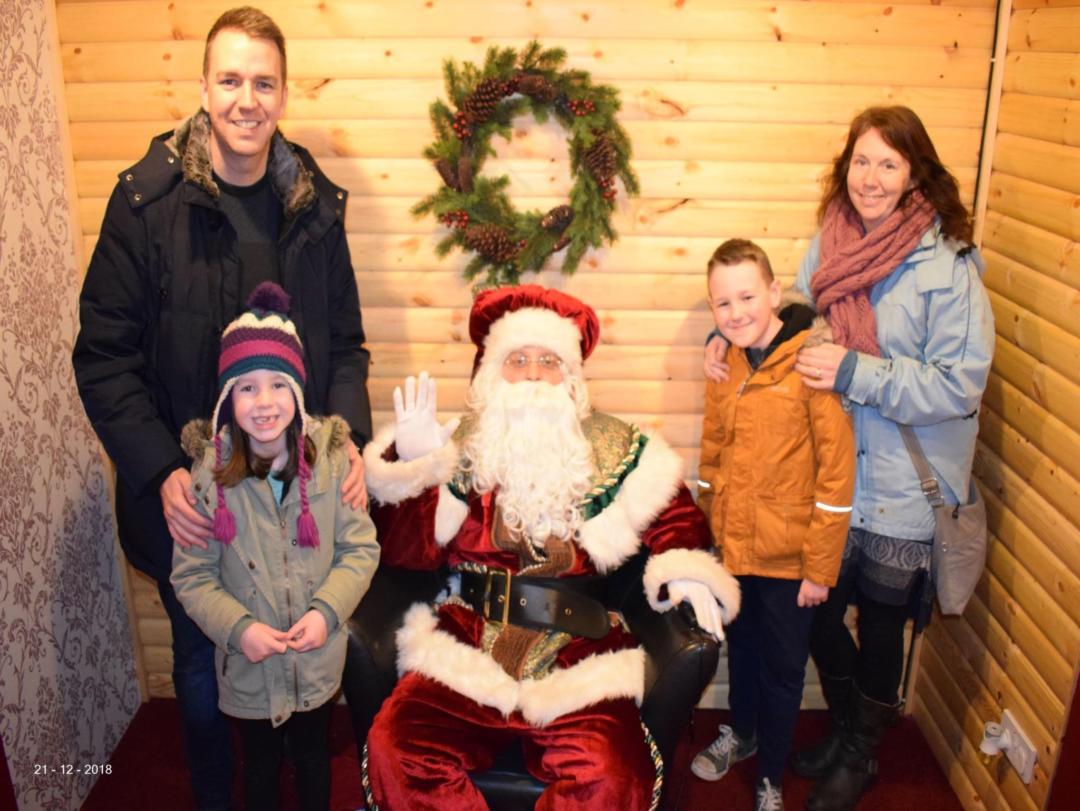 After that we were able to go in to the toy shop to choose a toy. The selection was very big, certainly something for everyone and the quality of items was good. Girl Child chose a soft toy on both visits and Boy Child chose (yet another) gun, both times!
The Theme Park and Attractions
Unfortunately Boy Child wasn't feeling well on our first visit so we only managed a couple of rides before deciding we'd better head home. For our second visit we stayed much longer. Around half the rides were open. They were supposed to open at 10.30 and close at 12.30 however they were already open at 10am when we finished breakfast and were still open at 1.30. The weather was quite mild so the rides were great and once we were cold we popped into Gully's town which is indoors and set up with pretend shops, a vets, a theatre, a building site and gym (which is actually a small soft play) where the kids can role play. Both of mine love role play and would have happily stayed there all day.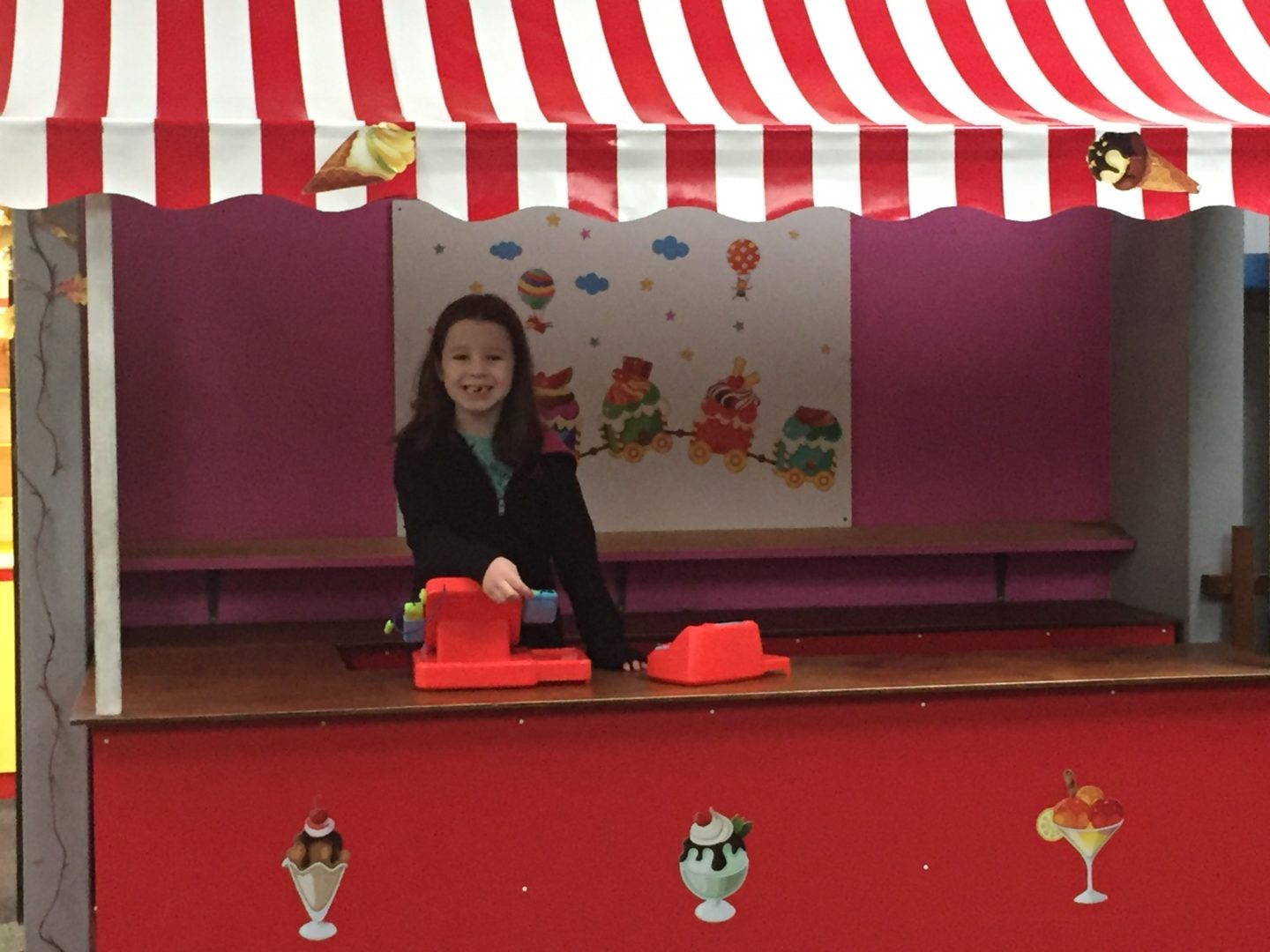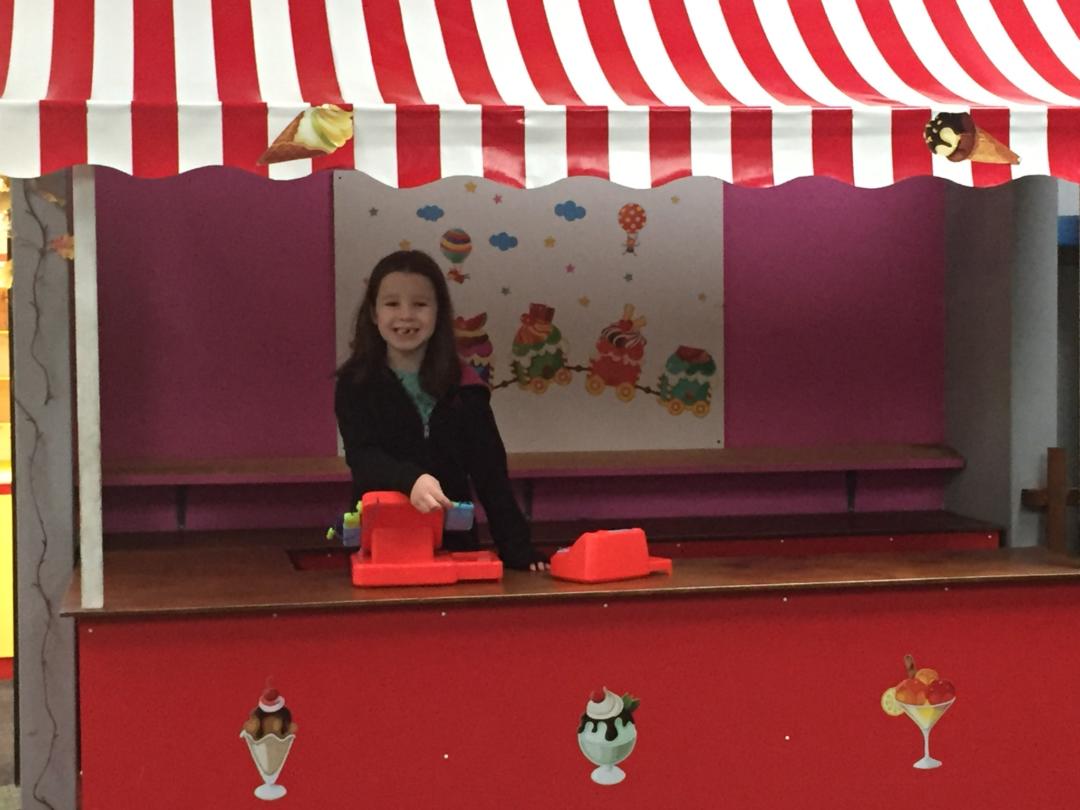 Much of the park is getting a bit tired and dated, not something that bothered the kids but as grown ups we notice. The JCB area however, which we visited last, looks brand new. The kids had fun operating the diggers and we all had a go on the dodgems.
We also got to see The Snow Show. This involved some of the park characters getting the children to wish for snow before turning on the snow machines. The kids loved running around in the fake foam snow. The last part of the day was watching the Christmas show. It was a mini Panto, about half an hour long. I wasn't expecting much but I was impressed. It was both funny and clever.
Our Conclusions on the Gulliver's Land Santa Sleepover
So all in all we loved our Gulliver's Land Santa Sleepover. The kids love the cabins, the theming is excellent and they are really cosy. They go to great lengths to make the place feel festive. Wherever you look there are Christmas touches and that helps the whole thing feel really special. I'm not sure if we'll be making it three years in a row but I certainly wouldn't rule it out. Girl Child is already asking when we can go back so we might try to visit over the summer for a change.
Top Tips for the Gulliver's Land Santa Sleepover
Consider arriving early or staying late and visiting the splash park.
If you want to eat early try to check in fairly early as you'll have more choice of dinner slots.
Some people may feel the cold more than us so you might want to take a few extra blankets.
The cabins have fridges so if you like fresh milk in your tea or coffee, take a pint with so you don't have to use the UHT cartons.
It's very cold on the rides so take plenty of layers to wear, even on a fairly mild day.
The mid week break is cheaper and less busy, while we preferred the dinner to the lunch, it was worth the trade off for the savings and lack of queues.
Enjoyed this Post? Why not pin it for later?