Last year, the four of us went to the Chessington Santa Sleepover for a Christmas treat. We've done Santa Sleepovers rather than just visiting Santa for the last few years now, because they represent better value for money, but this was our first time doing the Chessington Christmas experience. There are a few different set ups depending what day you go bye we arrived on a Friday after school and had the Saturday as our main day in the park and seeing Santa. Here's how we got on.
The Accommodation
We chose to stay in one of the animal themed rooms and went for a Monkey Temple Room. The theming is quite intense and while it wasn't festive, the kids still loved it. There was a challenge to find things around the room to get the number which would unlock a box that contained a small prize and the kids really liked doing that.
The room had a double bed for us and then a separate sleeping area for the kids which had bunk beds and their own TV. This was great because it meant we didn't have to go to bed at the same time as them if we didn't want to. It was en suite and had everything you'd expect, including tea and coffee making facilities, hair dryers and complimentary toiletries.
The communal areas of the hotel had plenty of nice Christmassy touches to make it feel festive. In the lobby area of the hotel there were Christmas films playing and a small cosy area to sit in which the children did for a little while.
The animal themed rooms also give you access to the Savannah Splash Poll (you can pay extra for it in standard rooms) so we took advantage of that. There is a splash area and a small pool for swimming. You have to book in advance, we booked the day before and only just got a spot so definitely worth booking early. 
The Splash area had a variety of small slides, squirters and a couple of water cannons which were great fun for the kids, less so for unsuspecting adults! The changing rooms were small but they matched the pool capacity so it wasn't a problem.
Eating at Chessington
We ate dinner in the Temple Bar and Grill which is a buffet restaurant. My children like a buffet so they can pick and choose and the food was of a decent quality. They had all of the typical kids favourites on offer as well as things like curries and pasta dishes.There was a pudding buffet too with a good selection.
The Temple Bar and Grill is heavily themed to feel like an Indiana Jones style lost temple and there are some noisy side effects which some kids might find scary. It is also very dark which isn't my favourite thing when I'm eating.
We had breakfast in the same place (minus the sound effects luckily) and there was a choice of full English or a variety of cereals.
We had lunch in the Smokehouse restaurant in the park, we've been there before and loved it so we're looking forward to it and it didn't disappoint.
The Theme Park Offer During the Santa Sleepover
The theme park was well decorated to reflect the Christmas theme with lots of nice touches, this "warrior Unicorn" pulling a sleigh being my favourite.
There were about five rides open but we focussed on our favourites, The Gruffalo River Ride and Vampire. Queues were minimal so we made the most of the opportunity to go on them multiple times which isn't realistic when the park is at full capacity.
The zoo is also open and we really enjoyed that. My children haven't been big animal fans in the past and it was the first time they have really appreciated the zoo. The animals appear happy and the enclosures looked pleasant.
There is also an Aquarium on site which was open and offered a pleasant respite from the cold. It's not very large but has lots of beautiful fish and sea creatures. A member of staff was in one area allowing the children to stoke starfish and hold shrimps.
The Grotto at the Chessington Santa Sleepover
As my children are 8 and 10, we've done a fair number of Father Christmas visits over the years and Chessington has the best actual grotto I've seen. You queue outside in a Christmas themed walkway which has lots of Christmas scenes set up and plenty of twinkly lights. When it's your turn, an elf takes you through a snowy forest to a wood cabin to meet Santa. The whole thing felt wonderfully Christmassy and the Santa himself was very friendly.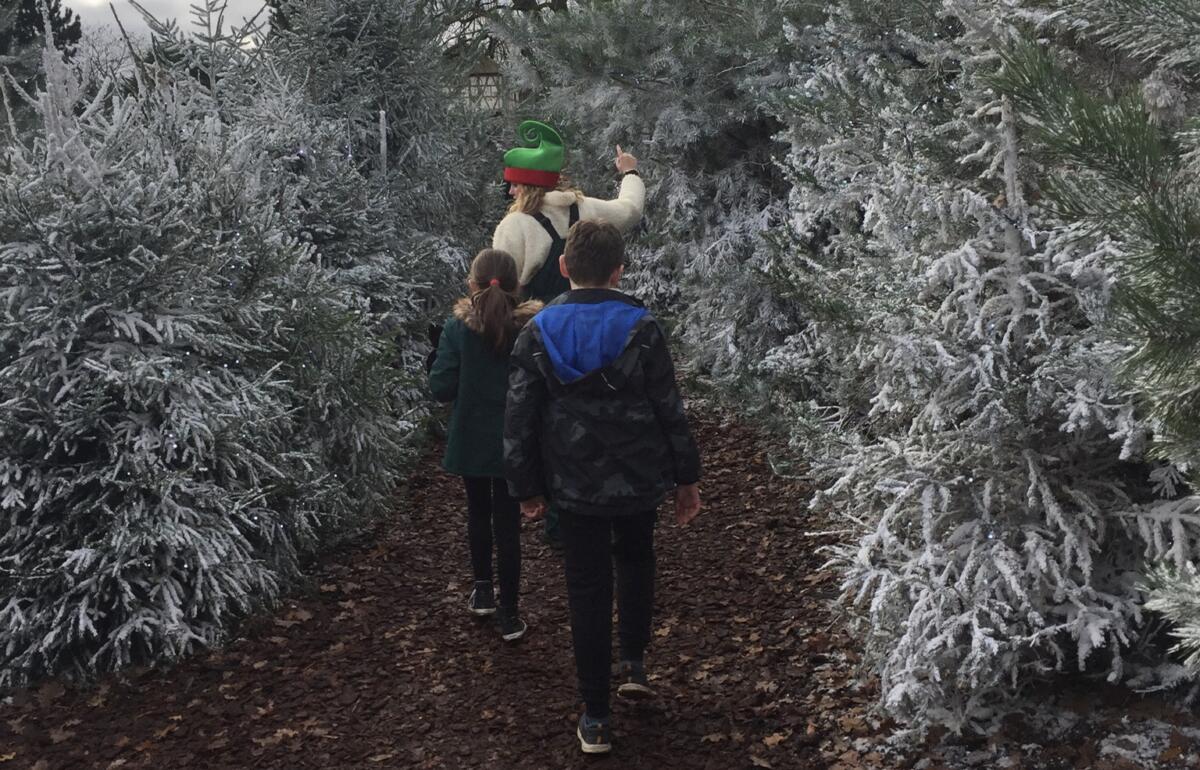 The only thing I wasn't keen on was the set up for the gift. In the grotto with Santa, there were about 8 different piles, each containing a different toy and the children had to choose one. I don't know about your kids but my kids like to spend ages on pretty much every decision they make but felt they should be quick because Father Christmas was waiting!
Conclusions on the Chessington Santa Sleepover
We are big fans of Chessington World of Adventures, we love it because it offers something for both children and adults (we have happy memories of sitting on the decking enjoying a drink while watching Zebras graze in the summer) so we knew we'd have a good time. However, if I'm just considering it as a Santa sleepover experience, I have to say that the Gulliver's Land Santa Sleepover offers more.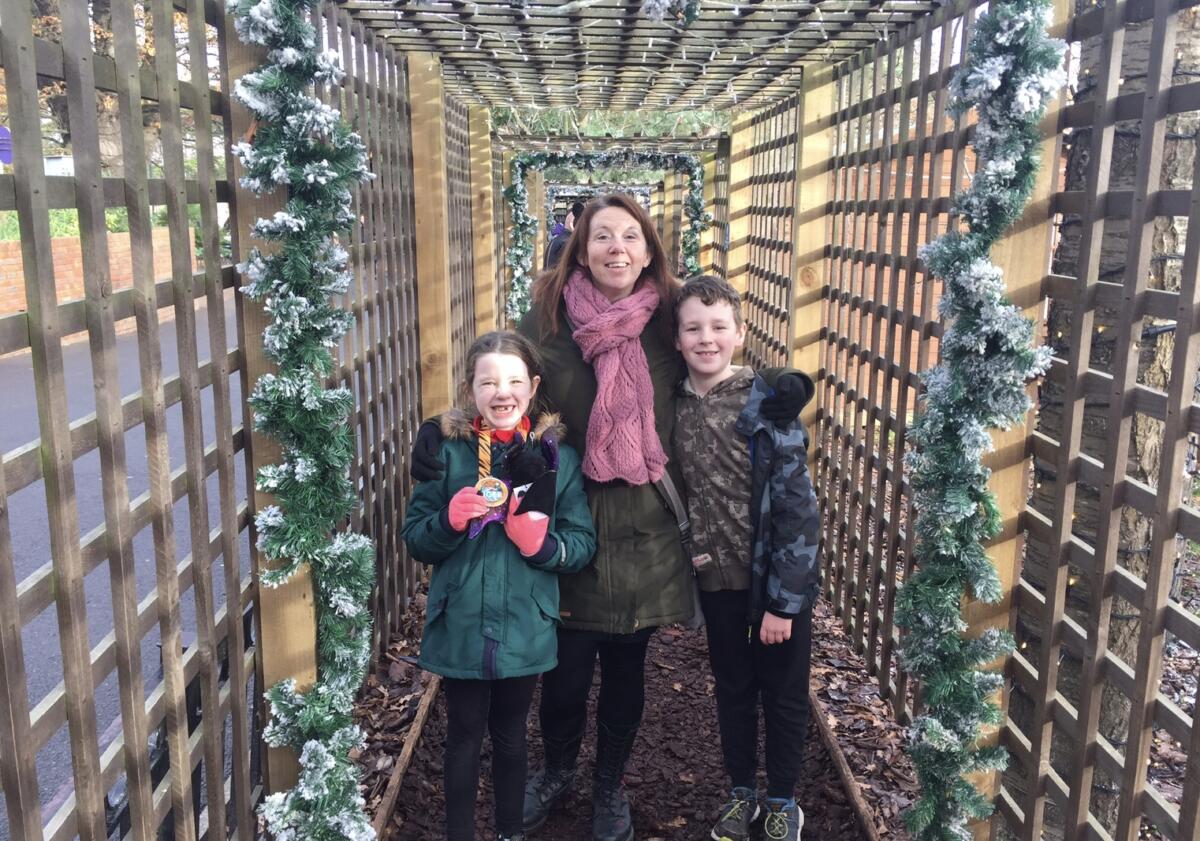 While both offer themed accommodation, the "cute" individual nature of the accommodation at Gulliver's land seems more exciting. Although if you have animal mad kids then the Chessington Santa Sleepover might be better for you.
Although you have to book it separately and pay more, the splash park at Gulliver's Land Milton Keynes is much better than the Savannah Splash pool. It's bigger and adults don't have to go in, always a bonus! The paying more for it is also balanced out because the overall price for the sleepover is a bit cheaper and also includes an evening meal.
The Gulliver's Land Santa Sleepover also offers a more festive overall experience with more evening entertainment, including carols, toasting marshmallows and milk and cookies. 
The festive walk through and grotto at Gulliver's land aren't quite as good as at Chessington but kids get to to chose their gift in a toy shop after they've seen Father Christmas and that's a big plus for me. There is also a lot more festive stuff going on on the park like a snow show and a small panto.
We had a great time at the Chessington Sleepover and would certainly go again, particularly as my kids are older and appreciate the bigger rides but for a really festive experience, especially if your children are younger, I'd pick Gulliver's Land.
Enjoyed this post? Why not pin it for later!