Let me start by saying, While I've titled this post "raising a Tomboy daughter", I'm not very keen on the phrase "Tomboy". A more accurate description of my daughter is "A girl who prefers things that were traditionally aimed at boys". That is a bit of a mouthful so, for the purposes of brevity (and not sounding like a pretentious twit), I'll stick with Tomboy. Here's what it's like parenting one.
Nature or Nurture?
I often wonder what has led Girl Child to her preference for boys things. This article sites some research that suggests tomboys are born rather than made, as a result of testosterone levels in pregnancy. While this might true, I think nurture is at work to.
Obviously, her only sibling is a boy so that must have had some influence. However he isn't a particularly "boyish boy" so I don't think that's the whole story. If she had wanted him to play dolls with her, he would have. I don't think I have had much influence on her. While I don't wear make up often, I do tend to wear dresses most of the time (albeit with leggings). We have fairly traditional gender roles in our family. To my shame I actually can't change the weird lightbulbs we have in our house but I am the one who does most of the decorating so I think that makes up for it. (I may not do it the Chris's standard but I get it done which I consider far more important).
Clothes
Since Girl Child was able to dress herself she has chosen trousers or shorts. I'll never forget the first time I put one of Boy Child's old T-Shirts on her. She was about 3 at the time and was over the moon. Since then we've shopped for tops in the boys section which she wears with black leggings or boys shorts.
When she started in reception she chose to wear trousers from day 1. She wears a mixture of sweatshirts and cardigans depending on her mood. We tend to buy plain girls shoes but we might change to boys in the future if she really wants to. I do worry other children might ask her why she's wearing boys shoes. While she's very comfortable with who she is, I'm not sure she's confident enough to deal with it yet. 
At the moment she wears boys shorts in the summer months for school which. While she's still in infants, isn't a problem. When she goes up to juniors, girls aren't allowed to wear shorts. This would leave her in a position of either being too hot in trousers or wearing a dress she wasn't comfortable in. It's my plan to meet with the head when she's in year 2 to ask him to change the policy. This is something I feel really strong out so I will face my fear of confrontation and get it done. I'll let you know how that goes.
Why I Love Raising a Tomboy Daughter
Girl Child has been a Tomboy since her toddler years so, to be honest I don't really know what it would be like to raise a "girly girl" but I'm pretty sure I prefer my tomboy.
For one thing, having a son and a tomboy daughter is saving me a fortune. I can use hand-me-downs and don't have to have my house cluttered up by "girl toys" and "boy toys". It also makes days out and holidays much easier because both children want to do the same thing! I imagine agreeing on a film to watch as the cinema is quite tricky when one wants to watch My Little Pony and one wants to watch Spider-Man.
More than the convenience, I love the person my daughter is becoming, and that's partly down to her preference for boy things. She's learning to be different from other girls and view that as a positive. She's also getting to experience all aspects of life instead of just those aimed at one gender or the other.
The Rest of the World
Girl Child has lots of friends. They are a mixture of girls and boys but she is certainly closer to the boys. She has two male friends who she has been close with since they were 3 and played together at preschool. They have no issues whatsoever about playing with a girl. For now. I can't say I don't worry about this changing when they get older.
In some ways it is hard for her being a girl who prefers boy things (that's how she describes it herself). Where there is a girls version and boys version of something, for example Kinder Eggs, she really struggles to choose which one to get. She currently attends Beavers which she loves. However if she goes on a sleepover with them, she won't be able to sleep next to her friends. The girls are always put in a tent together. She is regularly mistaken for a long haired boy, by both children and adults. It doesn't bother her but adults often feel embarrassed to have made the mistake.
Birthday parties can be a problem when you're raising a tomboy daughter. When it's her birthday,  parents who don't know her automatically buy her traditional girls toys. She's always very grateful but I know deep down she'd have preferred something different. At other people's birthday parties, there are sometimes girls party bags and boys party bags. I know she would prefer the boys bag. I also know the parents have probably made up the right number for the gender split at the party so don't really feel I can ask for a different one.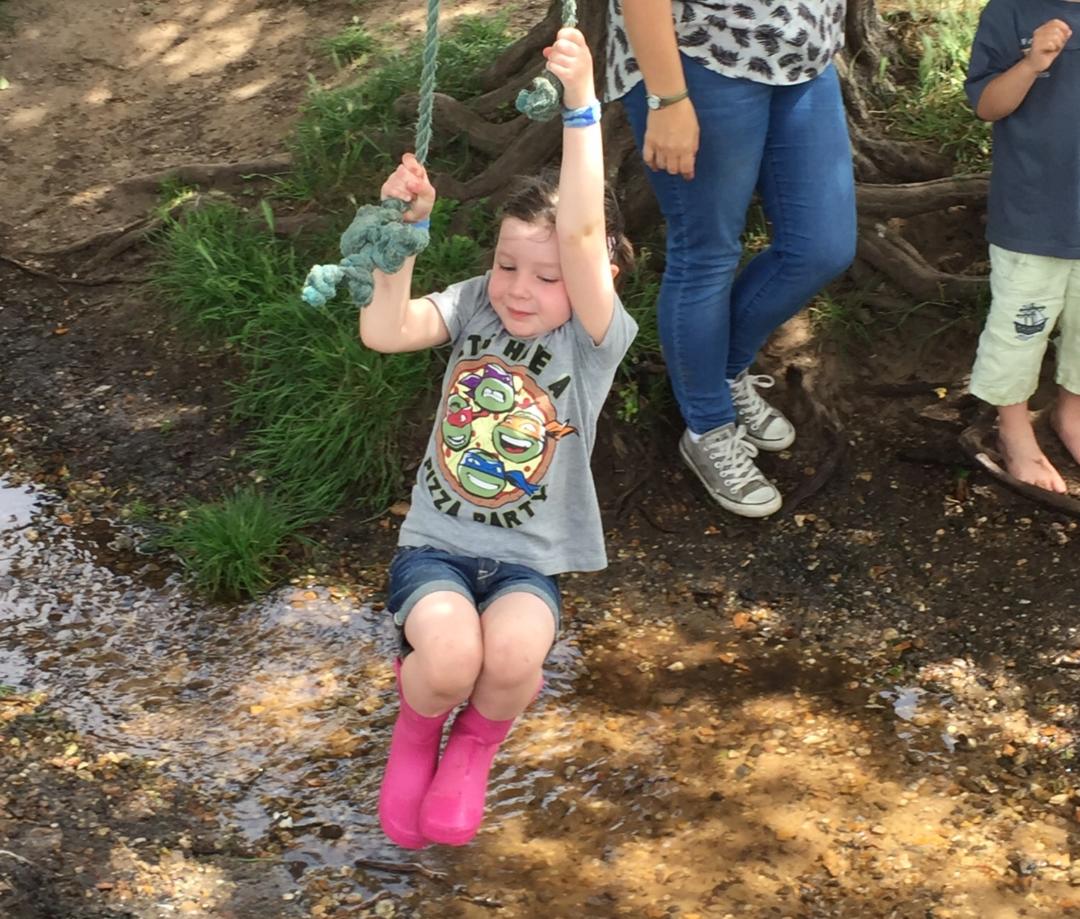 She might be a "Tomboy" but she likes Girls Things too
She does also have the odd very girly passion. For her bedroom, when she was 3, she chose a pink with butterfly's theme, which she still loves now. We suggested changing it a few months ago and she was horrified. She also (much to my horror) loves the giant Barbie house we were given. I keep putting it away in the loft and she keeps making me get it out again! Pink is one of her favourite colours. She is actually very proud of being a girl and will argue with her brother about weather girls or boys are "better". 
I hope as she gets older she continues to feel confident wearing what she wants and being who she is and that the people around her, in particular the other children, continue to accept her for her wonderful self.