Everyone knows, kids love to snack. I think that's why toddler food activities always go down well with them. Here are my favourite food based toddler group activities from my 3 years running a group. Don't forget, when planning food based activities for a toddler group, you'll need to be able to provide allergen information to parents, so hang on to your packets.
Decorating Biscuits – The Classic Toddler Food Activity
This is a classic among toddler food activities. It's always popular and very easy to set up. It can get messy but is definitely worth it.
What you'll need
Biscuits (you can make your own or just grab a packet of digestives)
Icing (it's cheapest to make your own water icing but premixed icing you can write with is fun too)
Food colouring (optional)
A selection of Toppings:
Mini Marshmallows
Hundreds and thousands
Chocolate chips
Popping candy
Sugar stars
Smarties
Small bowls 
Spoons
Baby wipes
Plates
Method
You'll need to make up the icing in some of the bowls, you can just leave it white or do a few with different colours. Put some icing sugar into a small bowl, add food colour if using, then just a drop of water. Stir and, if it needs it, add more water. You want a spoonable consistency. Put the toppings into bowls and place on tables. Give it child a plate with a biscuit on and a spoon for the icing and let them get creative.

Banana People
What could be better than a food based toddler group activity than one that gets some fruit into them. For safety, don't forget to snip the pointy ends off the skewers.
What you'll need
Bananas 
Twiglets
Chocolate chips
Wooden skewers with the sharp ends snipped off.
Small bowls
Plates
Method
Slice the banana so that you have 2-3inch pieces for bodies and 1inch pieces for the heads. Put them on a plate. Pour the chocolate chips into one bowl and the twiglets into another. Lay everything out on the table. It's useful to print out some pictures of what the finished article should look like so people know what they're aiming for. I also labelled what each food item was for to make it clearer.
Painted Marshmallows
This is an unusual toddler food activity but it works quite well. It's good for learning about colours and developing fine mothers skills as holding the marshmallows while you paint them is quite tricky.
What you'll need
White marshmallows (you could save the pink ones for the next activity)
Milk
Food colouring 
Clean paintbrushes (that haven't been used for paint yet)
Small bowls or pots
Plates
Method
First you'll need to make your "paints". Put a small amount of milk into a pot or bowl and add a few drops of food colour, mix and add more if the colour isn't strong enough. Give all of the children a plate with a few marshmallows on and let them get creative with the edible paint. 
Dip and decorate
You can personalise this food based toddler group activity to suit your preferences. I used bananas and marshmallows but you could use a variety of different fruit. Just make sure you cut them big enough not to be a choking hazard.
What you'll need
Things to dip, for example:
Bananas
Marshmallows
Strawberries 
Orange segments
Mango chunks
A selection of toppings, for example:
Hundreds and thousands
Chocolate chips or curls
Popping candy
Sugar strands
Chocolate (milk or white)
Skewers with the sharp ends snipped off
Small bowls
Plates
Method
Chop up your fruit to appropriate sizes and put them on a plate. You can melt your chocolate in the microwave but if, like me, you don't have a microwave at your venue you can chop it up small, put it in a small bowl and place it on top of a mug of boiling water. Stir it frequently and it will soon melt. Pour your dips into bowls or shallow plates. Place everything on tables along with the skewers and let the children put something on skewer, dip it in chocolate, then dip it in the topping of their choice.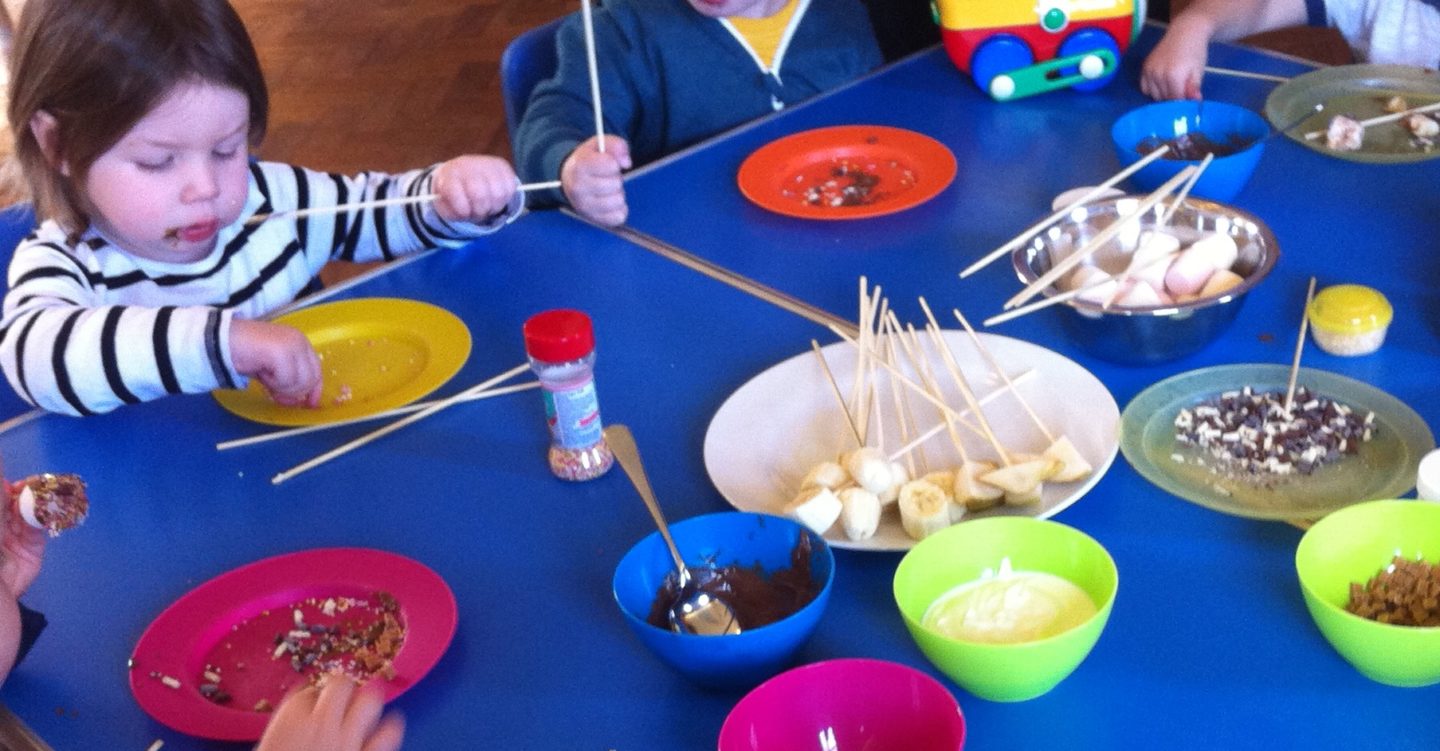 Looking for non food based toddler group activities?
You can check out our, nature based activities,  messy play activities and arts and crafts activities. If you need to guidance on selecting activities, have a look at How to choose toddler group activities to run. You might also find out suggestions for circle time activities for toddlers useful.
Enjoyed this post? Why not pin it for later.