When running a toddler group I was keen to run different activities for the children and over the years I tried loads of different toddler group activities with varying degrees of success. Here's my guide to toddler group activities as well as what to look for and what to avoid.
This post contains affiliate links (identified with a *) I earn a commisson from qualifying purchases
Ideas for Toddler Group Activities
I've Separated the toddler group activity ideas into themes. The first ones are for the whole group to do together and the next ones are for smaller groups to do.
Group Activities for Toddlers
These activities are things you can do with large groups of toddlers.
Free Play – Free play will make up the majority of toddler group time. Ideally you'll have enough space and toys to set up "play zones" So you might have an area with toys cars, a block building area, a small word play area, a home corner and a dressing up area
Parachute Games – These are great fun for toddler groups as parents and carers can hold the parachute while little's one run in and out beneath it. You can make it even more fun with some soft balls the bounce on the top of the parachute.
Musical Statues – While a lot of part games are two complicated for 1 and 2 year olds, most can grasps the basics of musical statues. While you might not want to declare anyone out or have any winners, it's still fun to play.
Bubbles – A bubble machine or blowing bubbles in the hall can be great fun at a toddler group. Just be aware that it will probably make your floor slippery, it's safest if toddlers are barefoot and you clean up as you go.
Balloons – There is nothing like watching a big group of toddlers running around chasing balloons but you will need to keep a very close eye on them. Burst balloons are a big choking hazard so make sure someone is monitoring and making sure all burst pieces are accounted for.
You might also be interested in these Circle Time activities for toddlers. They are great for getting everyone together at the end of the session. There are ideas for story time, singing and toddler group games.
Small Group Activities for Toddlers
The ideas below can be set up at toddler group for smaller numbers of toddlers to do on a drop in basis while others are engaged in free play. How many you can have doing the will depend on your space and resources but 6-8 is usually manageable.
Messy Play Toddler Group Ideas
Messy play is great fun for most toddlers, and while parents might not be keen to do it at home, they usually love seeing their little ones enjoy it somewhere they won't ruin the carpets. Check out our Messy Play toddler Activities.
Food Based Activities
Children love food so what could be better than an activity around food? It's a great way to combine snack time and activity time. Check out our Food Based Toddler Group Activities.
Craft Based Activities
Crafts are a staple of toddler groups and most children enjoy making something they can take home. It can also be a great way to make life easier for parents by having the children make Mothers Day cards, Father's Day cards or other seasonal cards for family members.
While structured crafts are great, don't under estimate the fun of letting them just go free range with the felt tips of paints. Check out our Craft based activities
Nature Based Toddler Group Activities
We all know that children benefit from being in nature and even if you run an indoor toddler group you can bring nature to your activities. Check out our Nature based toddler group activities.
Process Art Activities
Process Art, sometimes described as "open ended art" is art where the process of creating the art is evident in the finished work. For toddlers, process art is about using different methods to create something without a set goal in mind. Check out our process art activities for children.
Tips for Choosing Toddler Group Activities
If you're new to running toddler groups and have some ideas of your own, the advice below will help you evaluate whether or not your toddler group ideas will work well in practice.
Are there any Hazards?
The most important thing to consider when choosing toddler group activities, is safety. That may sound a bit daunting but if you're a parent you just need to take into account the precautions you'd take with your own children. Avoid choking hazards or sharp objects. I nipped the pointy end off of the skewers in the picture.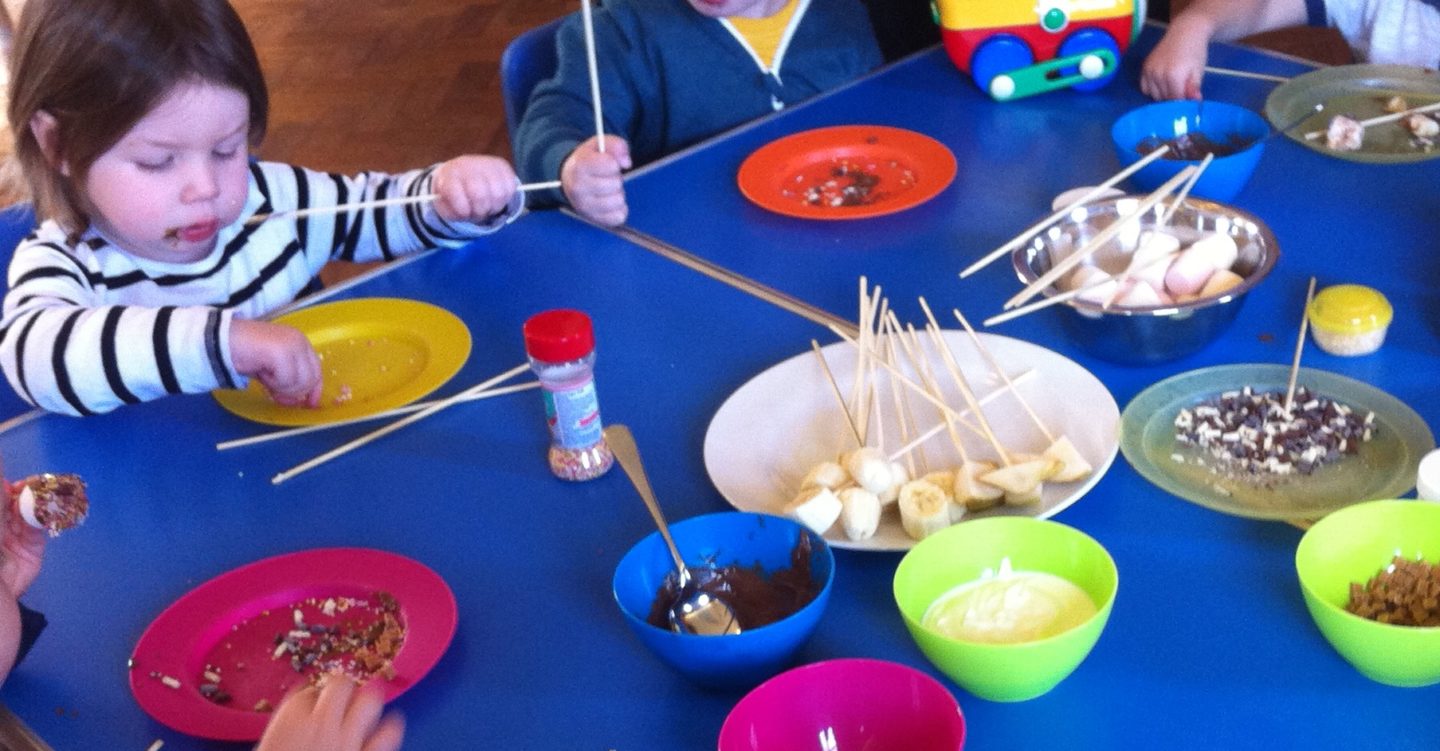 For food based activities, you'll need to consider allergies. If you have a child who attends your group and has an allergy you might want to provide alternatives for them. If you can it would be better to just avoid using what they are allergic to at all. Even if you aren't aware of any allergies in the group, you should keep hold of all the packaging so that you can tell people what's in everything should they ask.
Can you clean it up?
If you're considering messy play toddler group activities, you'll need to factor in cleaning up. Does the venue have the equipment you need ie mop, vacuum cleaner (or can you take it with you?). Is any part of the venue likely to be damaged by the mess? For example, if the floor is carpeted you might need to put mats down. You'll also need to allow time for cleaning up. How much time depends on the level of mess and how much help you have. 
Of course the toddlers will need cleaning up. Some old shirts worn backwards can make great aprons. If you ask the parents in your group someone will usually have some. You'll want a few packets of baby wipes on hand for a quick clean. You'll also need plenty of soap and hand towels in the toilets for the full clean up.
Can mums help their child do it with one hand?
A large proportion of parents at the average toddler group have to supervise a toddler while holding a fractious baby. Try to keep the activities simple enough that they can manage to help the toddler complete them while holding the baby. Think about pre cutting things to avoid parents having to do it.
If you're running an activity that three year olds will love but 18 month olds would struggle with, try to offer an alternative so mums don't have to deal with disappointed siblings. Even just some themed colouring sheets can do the job.
How much does the activity cost?
Toddler group budgets are generally small or non existent. I used to run the occasional cake sale to fundraise for supplies. If I'm honest I bought a lot of it myself. On the plus side, this does now mean I have a craft cupboard overflowing with goodies.
For some activities there might be elements you want to keep away from the children until they're ready to use them. For example, if you are doing a planting toddler group activity, you might want to only give them the seed when they are ready to avoid waste.
If you do want to invest in some items that will be used a lot I would suggest:
– A set of plastic cups/bowls/plates, like this one*. They are great for all sorts of things from food based crafts to messy place activities.
– A good supply of colouring pencils*, we all know toddlers aren't the best at sharing!
– Some card for card making, it's cheaper to buy large packs*.
– A set of musical instruments* make singing time much more fun (if somewhat noisy!)
– Some mats for children to work on, great for play dough or food based activities, these cheap chopping mats* work well.
Other Things to Think about when Planning Toddler Group Activities
If they are painting or gluing, try to allocate a space for things to dry (we all know how thickly toddlers like to spread the paint).
Can they get it home? A supply of carrier bags can make life easier for parents.
What's the season? Making a father's day card at toddler group can make things much easier for a busy mum.
It's ok to keep it simple, some weeks it's fine to just put out the colour sheets and crayons.
If you are planning something messy, it's good the pre warn parents so that they can dress the children appropriately.
If you're looking for more tips, check out How to Run a Toddler Group. If you're interested in attending a toddler group, have a look at our tips for attending a toddler group.
If you enjoyed this post, why not pin it for later?