For many of us, as soon as we see that positive line on the pregnancy test, we start thinking about all the preparation we'll need to do before the baby comes. This often leads to the question, when should I start buying baby stuff? The answer isn't straightforward but in my opinion, a simplified summary would look like this:
In the first trimester – Buy pregnancy vitamins, anything you need to manage your morning sickness and a pregnancy journal
Between 12 and 20 weeks – Focus on researching what you need and working out how to get the best value for money
From 20 weeks – This is the point where most mums to be really start buying baby stuff, start buying the smaller stuff
From the third Trimester- Buy the larger and more expensive items
By 32 weeks – Make sure you have the essentials in case baby comes early
When Do Most People Start Buying Baby Stuff?
Curious about when everyone else starts buying for their baby? I did a quick poll in my local mums Facebook groups and have tallied up the results below.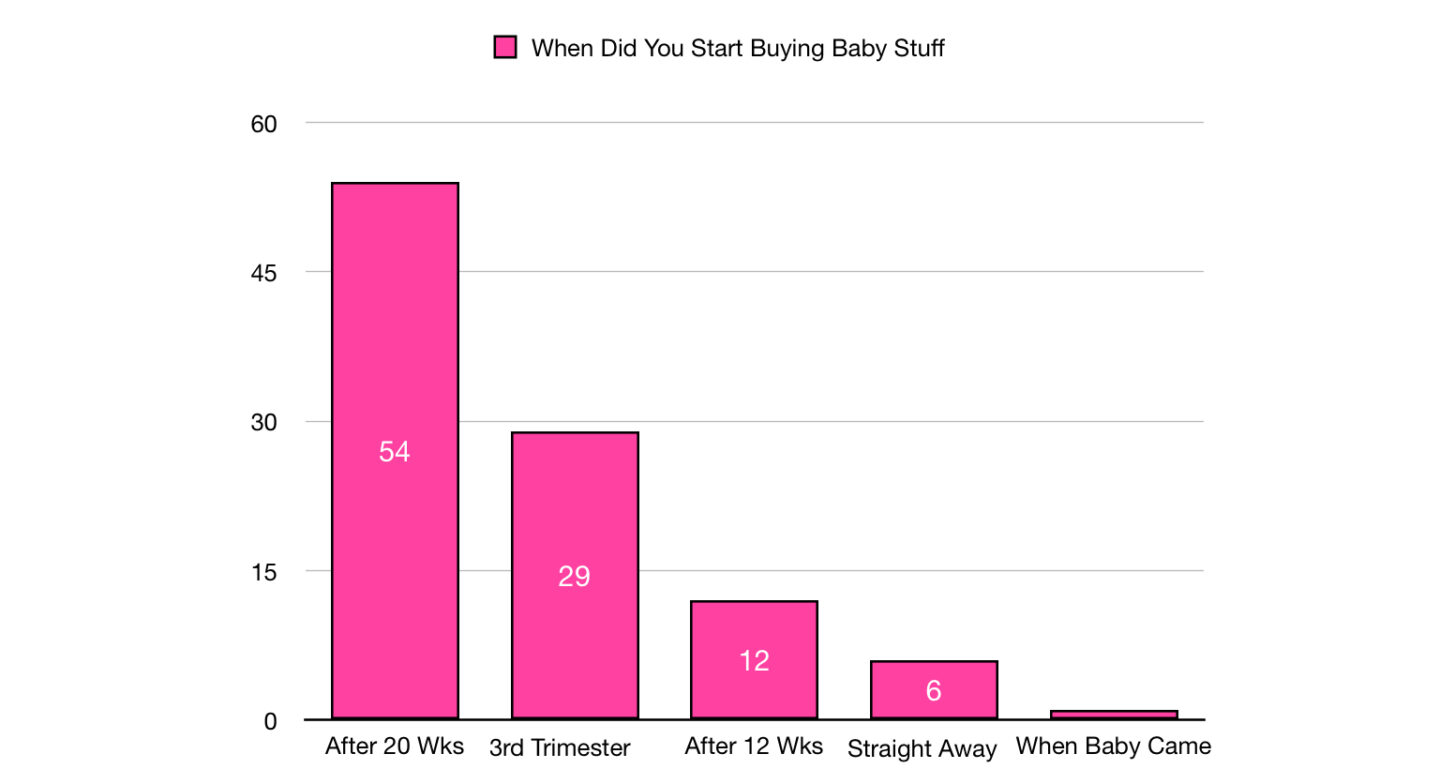 For more detailed information on when other mums to be start their shopping, scroll further down this post to read some other mum bloggers answers to the question "When did you start buying baby stuff".
This post contains affiliate links (identified with a *) I earn a commisson from qualifying purchases
Buying Baby Stuff in the First Trimester
While some women do start buying baby bits as soon as they find out they are pregnant, the majority wait until at least 12, the end of the first trimester. This is because the highest risk of miscarriage is in the first 12 weeks of a pregnancy.
Keeping Quiet About The Pregnancy
If, like most women, you are keeping your pregnancy a secret from the majority of people until after the 12 week scan then baby shopping before that point can be tricky. If you bump into a friend while browsing baby sleep suits in Next or take delivery of a Moses basket when a friend is round for coffee, your cover may be blown.
Is it Bad Luck to Buy Baby Stuff Early?
Some superstitious people used to believe it was bad luck to buy baby stuff early. With our modern understanding of science, few people still think this but some people may still feel uncomfortable about doing it.
While the timing of your baby shopping will have absolutely no impact on the outcome of your pregnancy, what you should consider is how you will feel about items you've bought if your pregnancy doesn't go as expected. Will seeing the baby stuff you bought early upset you? Will you keep it for future babies? Give it away? Keep it as mementos? Sell it? While you may prefer not to think about these things, it is sensible to consider before investing a lot of money.
Baby Stuff You Should Buy Early
As soon as you're pregnant, you should start taking vitamins, check out the NHS website for recommendations. If you're struggling with morning sickness, there are also things you can buy to help with that, I used these anti sickness wristbands*. It's also nice to buy a pregnancy journal* so that you can record your experience of being pregnant.
If you want to do National Childbirth Trust antenatal classes, you should consider booking them around the end of your first trimester.
Things to Consider Before You Start Buying baby Stuff
Even once you are a bit further on in your pregnancy, there are a few things you should consider while deciding when to start shopping for baby.
Are You Having a Baby Shower?
If you're having a baby shower, then you'll need to take this into account when planning your baby shopping. Baby showers don't usually happen until around 6 weeks before your due date so while you probably don't want to leave all of your shopping until then, you also don't want to buy everything in advance so that all your gifts are duplicates. A gift registry, as described below, can help with this.
Using a Gift Registry
A gift registry can be a great idea, whether you are having a baby shower or not. It gives you an opportunity to ask for specific items that you have researched. For example, rather than just saying you want a baby sling and someone choosing one for you, you can research the one you want and add that to the list. This is a big deal if you are a control freak like me!
Most gift registries are free to set up so there's nothing to stop you creating one privately from the very first day you're pregnant. It's a bit like shopping for baby bits early without really buying them!

The Amazon Baby Wish List* even gives parents a 15% discount.
Are you Likely to Get Given Much Baby Stuff?
It's well worth considering whether there are people in your life who will pass on baby stuff to you. I come from a small family and didn't have any friends with babies so wasn't given any hand me downs but I would have gladly accepted them and saved the money if I could. If you think someone might be likely to give, or lend, you baby stuff, it's worth waiting until a bit later in your pregnancy to shop than you otherwise would.
The Gender of Your Baby
You'll need to consider whether you plan to buy gender neutral (handy if you have more children who turn out to be a different gender) or gender specific. If you plan to go gender specific, will you be finding out at the 20 week scan or will you have to wait until your baby is born to do the majority of your baby shopping?
What is Your Budget for Buying Baby Stuff?
This is worth considering because if your budget is limited (or you just hate to waste money) you might want to buy some things early because you see a good deal.
If you're keen to save money by buying nearly new, check out this advice on buying secondhand items for your baby.
If you're keen not to over spend on baby stuff, rather than shopping early, I'd suggest planning early, which I'll talk more about below.
What to Do if You Don't Want to Buy baby Stuff Early
While you might decide to hold off on the baby shopping until later in your pregnancy, I would suggest you start your baby shopping research pretty early. You're about to enter a whole new world of stuff that you didn't imagine existed, much of which you don't need, some of which will make your life much easier.
I would suggest you start looking at lists of what you need to buy and then researching the products available by looking at reviews to choose the best one for your budget. Join some pregnancy Facebook groups and ask for people's views on what you need and what you don't. FYI, no one needs a baby wipe warmer.
When Should You Start Buying Baby Clothes
You'll sort of hate me for this but my honest answer is never! I did tons of research about what I needed to buy and what I didn't and concluded that all I needed was some sleep suits because everyone and their aunt will buy cute outfits for your baby. And I do mean that almost literally, people I had never met, (friends of family members) sent clothes for my first baby.
All I bought was one outfit to take him home from the hospital in because I wanted to choose something for myself and he still never got round to wearing everything he was given before he outgrew it.
If you're desperate to buy clothes I'd suggest you buy some things in bigger sizes. You can take comfort in the fact you'll have a good few years of choosing their clothes before they start asserting their own opinions and insist on going to Tesco dressed as Spiderman.
When Should You Start Buying Baby Furniture
While I'm not going to say "never" on this one (you definitely need a cot) I'd consider just using regular adult furniture that will last them years rather than nursery specific furniture.
While you may consider not buying a cot if you have safe co-sleeping plans, I'd still suggest investing in a travel cot at the very least as somewhere safe to put your baby where you know they can't come to any harm. I would have the cot bought by 32 weeks in case of an early arrival. While it would likely still be a while before they were sleeping in it, it would be less stressful to know it was there and ready.
Somewhere comfortable to breast-feed in the night is important and a rocking nursing chair is lovely but they are expensive so I'd leave them until the last trimester along with any other nursery specific furniture you want to purchase.
When Should You Start Buying Baby Equipment
Here's a summary of the other key things you might need to buy and when it would be sensible to buy them. Remember this is just a guide, there are no hard and fast rules so feel free to adapt this to suit yourself.
When Is the Latest You Should Start Buying Baby Stuff?
There are people who don't buy anything until after the baby is born. While this level laid-backness makes me shudder, each to their own. Realistically we live in a world where Amazon could have everything we need delivered to our door the day after we order it, so leaving most things until after the baby is born isn't really a big problem. Below is a list of what I think it's really best to get before the baby comes.
A List of Things to Buy When Pregnant
These are the bare essentials that I'd say you must have even if you want to leave most of your baby shopping until after baby is born.
Newborn Nappies
Changing Mat
Sleep suits
Vests
Cot/Travel cot/Moses basket
Blanket
Car Seat (You must have one if you drive home from hospital)
Bottles if you plan to bottle or combination feed
Hospital Bag for Mum
When Did You Start Buying Baby Stuff?
I started buying baby stuff after my 20 week scan but didn't buy the majority until the start of my third trimester. I did however do a huge amount of research beforehand so by that point I know exactly what I wanted and it was just a case or ordering it or going to a shop to get it.
I asked some of my fellow bloggers when they started buying baby stuff and these were their answers.
Getting Started Early
Some mums are keen to get started on the baby shopping as soon as possible.
If I am honest, I bought baby clothes before I even got pregnant (and we are talking years before). We struggled with infertility and for me it was like making it feel that it really would happen. I don't think it would be for everyone, but it helped me.

Nicky from Best Things to Do in York
I bought all mine when the car boot sales where on to get some good deals. I actually picked up a blue space saving cot from the charity shop for £5. So basically around 8weeks onwards if I found some bargins I picked bits up. However with baby suits and having a premi I actually didn't get any baby wear as I didn't no what size I would need to I think I had 1 outfit but swamped him etc.

Emma from Lip Glass and Curves
Getting the First Bits at 12 Weeks
The 12 week scan is such a big milestone in any pregnancy and I think a lot of mums feel the need to make at least one purchase once they've seen their baby on the sonographer's screen for the first time.
I went out and bought a little white babygro with "I love my Daddy" on it after my 12 week scan, to wear as a coming home outfit. It was the first time I felt confident that the pregnancy was 'real' – despite the terrible morning sickness! All three of my babies went on to wear that little babygro. I bought everything else gradually throughout the pregnancy, in order to spread the costs.

Lauren from Outnumbered by Gymnasts
With my first baby I started buying gender neutral bits like clothing and nursery decorations after my after my 12 week scan. We waited until our 20 week scan for the larger purchases though. We suffered a loss with my second pregnancy so for my third and fourth pregnancies we were much more cautious and waited until around 30 weeks. All my babies arrived late so there certainly wasn't any rush!

Jennifer from Mighty Mama Bear's Book Blog
After the Twenty Week Scan
This seems to be the most popular point for mums to be to start buying baby stuff.
I started buying stuff after the 20 week scan – both because it felt more real after that and I felt less anxious after seeing everything was okay with baby. I just bought a couple of little outfits first and then all the big stuff during 3rd trimester.

Hayley from Mama in Progress
We waited until after our 20 week scan. We had decided to find out the gender and wanted to wait until we knew if she was a girl or boy. For us, it started to become 'real' after this monumental moment so we got our list and got busy shopping.

Lynne from The Swan Effect Mum
After the baby gender scan, I bought the items for my baby. The last item I shop was a mini cabinet to organize baby's wardrobe. Next day, I gave birth.

Lisa from Only Elisa Knows
Waiting Until Late in the Pregnancy to Shop for Baby Stuff
Some mums are more comfortable waiting until their third trimester, or even after their baby is born, to do their baby shopping.
I didn't start buying anything until I was in my third trimester and only small things, like cloth nappies and a fancy ring sling from Oscha. The big things, like a car seat, I waited until after I gave birth.I knew I had tendency to go over the top but I was also adamant that I would be breastfeeding, safely bed sharing, using elimination communication, etc. So I knew we wouldn't need so much stuff anyway.

Jade from Live a Blissful Life
For my first born, I brought him a pair of socks when he was 12 weeks just because it felt a bit more real. After that I waited until I had my baby shower at 34 weeks before buying anything more. Partly because I didn't know what to buy and secondly I also wanted the option for other people to gift us with whatever they choose without duplicating items.

Nita from Mummy Wishes
We barely bought anything before our twins were born. I'm not a superstitious person but after a heartbreaking scan at 20 weeks, I just couldn't bare the thought of having stuff until they were safely here.

Amanda from Mummy2Twindividuals
Hopefully this has given you some things to think about when deciding on the right time to start buying baby stuff. Ultimately the right time will be different for everyone and even if you want to wait until the very last minute, Amazon Prime will see you right!
Enjoyed this post? Why not pin it for later!