We love trying out new methods of getting colours on to paper and so were exited to try out squeegee painting. I initially thought I'd have to buy some squeegees to do this but then Boy Child pointed out that we have squeegees in the car for clearing our windows. We brought them in and used them and I can confirm that they survived the experience just fine and are now back in our cars ready for the next icy morning.
This post contains affiliate links (identified with a *) I earn a commisson from qualifying purchases
What you Need for Squeegee Painting
Squeegees – If you have them for your cars they will work or you can buy some on Amazon*
Paper or Card – We used paper this time which did wrinkle a bit, card* would probably cope better
Paints – We used cheap children's paints* but proper acrylic paints* would work too
Kitchen Towel – To wipe the paint off of the squeegee
Getting Ready to Paint
You'll need a selection of colours to create a good result, we experimented with two colours but also tried some rainbow options. To get started, choose your colours and then squeeze blobs of them on to one of the short sides of your paper or card.
I was initially wary of using too much paint but you actually need quite a large amount to get a good effect.
Spreading the Paint
Once your paint is in place, use your squeegee to scrape the paint down the paper. It will spread down in stripes and, as long as you have used enough paint, blend with the colour next to it. You can even choose different shades of the same colour to create an ombré effect.
If your squeegee isn't scraping all of the paint, try using it the other way around. One of ours was quite curved and needed to be used back to front.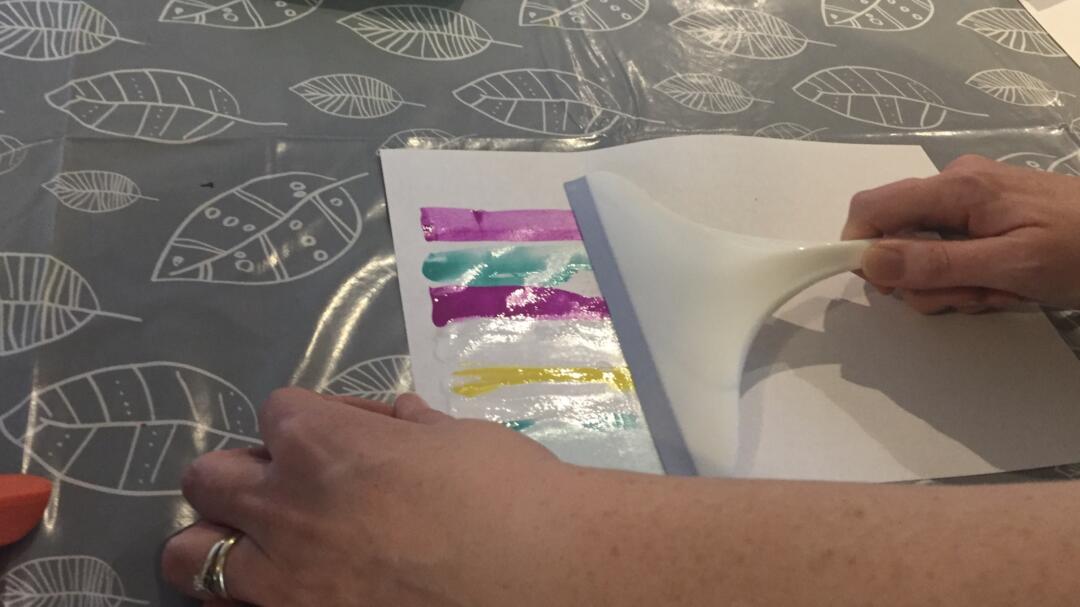 I hate wasting paint so, using my finger I scraped the extra paint off of my squeegee, smeared it at the top of my picture and scraped it again. Once you've finished with a colour combination you can wipe of the rest of the paint with he kitchen roll and start a new picture.
Uses for your Squeegee Painting Creations
As with all of the process arts we do that result in patterns, you can use them as cards but folding them in half, cut a shape like a heart or star out and stick it on to a plain background or just display them as they are.
This is such a simple process art that it would be a great activity for a toddler group to do.
If you enjoyed this squeegee art you might also enjoy having a go at bubble painting which is just as simple and even more fun (if a bit messy!), simplified paint pouring for kids or you can check out all of our other process art activities.
Enjoyed this post why not pin it for later!