Dinotropolis is a new Dinosaur adventure attraction at Bluewater shopping centre.  It's a dinosaur themed soft play with some really awesome added extras. We were gifted tickets in exchange for a review but all opinions are our own. Check out our dinotropolis bluewater review to see how we got on.
Arriving at Dinotropolis
 Bluewater 
We visited at 10am on a Sunday morning a few weeks before Christmas. Sessions at Dinotropolis are for an hour and a half. On the day of our dinotropolis review it was fairly quiet when we arrived but busier by the time we left. I had checked the directions on the website so knew roughly where it was. Some more signs in the main shopping centre would be useful. I knew it was near the cinema so I followed the signs to that which got us there. 
Even before you get in to the main attraction there are lots of little dinosaur touches that the kids loved. Once you're inside you are greeted by two huge anamatronic dinosaurs. They are roped off to keep them safe but you can still stand very close for photos. So close in fact that Chris kept managing to get hit when they moved their tails, which the kids thought was hilarious. The dinosaur theming is very strong, including dinosaur shaped lights projecting on the floor and Jurassic style vegetation.
There are toilets, cubbies for shoes and lockers (which take 20 pence pieces). There is a cafe although we didn't visit that for our Dinotropolis review.
Discovery Cove
The kids immediately headed past the soft play frame to the area called Discovery Cove. Here they found some fab things you wouldn't normally find in a soft play. In the middle of the area is a large sand table. By some magic/science that is beyond my understanding, the lights above the table make the sand change colour depending on how high it is. This means that if you scrape a hole down deep it turns blue and looks like water. If you pile it up really high, the top turns red like a volcano. We all really enjoyed creating different landscapes for the dinosaurs that were projected on to the sand.
There is another a sand area at floor level where children can uncover dinosaur fossils. Girl Child loved this as she could get right in it. Children can also build a dinosaur using foam pieces that slot together.
My children's favourite bit of Discovery Cove (and possibly the whole of Dinotropolis) was where they could colour in a dinosaur and then see it brought to life on screen. There are three colouring tables with lots of pens and a selection of different dinosaurs to colour in. The children (and the adults, Chris had a go too) then colour in the dinosaur however they like. We found bold colours and patterns worked best.
Once it's done you take it over to the screen which shows a Jurassic landscape. A member of staff scans it in and a few second later it appears on the screen and walks or flyers around. Both of my children absolutely loved it. Boy Child did about ten different dinosaurs in the end and loved experimenting with different colour combinations and patterns.
The Soft Play at Dinotropolis Bluewater
When we eventually dragged the kids out of Discovery Cove, we went to have a look at the play frame. It's very big with lots of features like a wobbly bridge and a ball pit. There is a decent toddler area for the very little ones. The size of the frame means that you wouldn't be able to keep an eye on littler children from one place so if you aren't happy for them to go off on their own you will need to go in with them.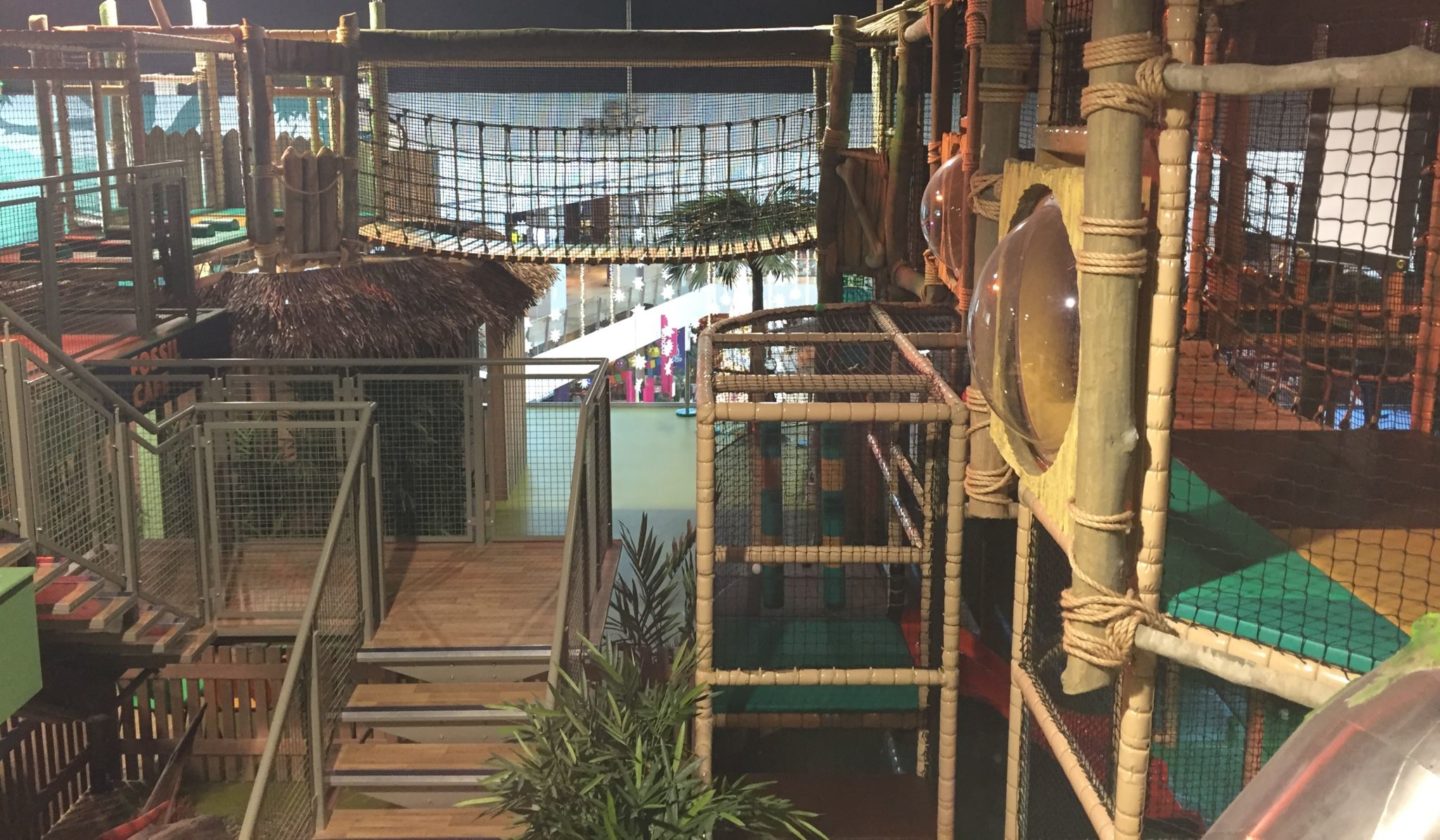 My children quickly discovered the Raptor Racing at the bottom of the soft play which they really liked. The racing takes place on peddle powered go karts. They have two different sizes, there are more of the smaller size. When they first went on they didn't have to wait very long however when they wanted another go a bit later on it was much busier and my oldest in particular had to wait quite a long time for one of the larger karts. It would probably be better if this was manned by a member of staff to enforce turn taking as we all know children aren't always great at that.
The Dinosaur Escape
From the description on the website I struggled to get my head around this before we arrived so I'll try and provide a good explanation. You go into a dark room which has laser beams going across it. There are a few old crates around and there is a flashing light on one wall. There is a member of staff who explains that the flashing light makes the dinosaur very angry. The dinosaur (who you can't see) is asleep at the moment. You need to make your way to the other side of the room where the light switch is located, without touching any of the laser beams. Once you've switched off the light, you need to get back across the room before he wakes up. You have five lives, so if you touch the laser beams more than 5 times, an alarm will go off which will wake the dinosaur.
This is right up Boy Child's street and he loved it. He and I did it as a team, turns out I'm rubbish and touched the laser 4 times. Luckily he was very good and didn't touch it all so we completed our mission with one life to spare. Girl Child (who is 6) is not very keen on dark or loud noises (the dinosaur roars from time to time). She had a look a look but decided she didn't fancy it. I would say a confident 4 year old could probably enjoy it but not much younger than that.
Dinotropolis Bluewater Review Conclusions
Boy Child ended up missing a football game to do the Dinotropolis review with us. When I asked him afterwards if he'd have preferred to play his match it was a firm no. He loves his football at the moment so that's quite a big deal. At 8, he is starting to out grow soft plays but this was great as he loved all the other things on offer. Girl Child loves dinosaurs so was always going to like the theme. She is also a massive fan of sand so that was a big winner for her.
We were their just over an hour and a half and given a choice the kids would have stayed much longer. There is so much to do that an hour and a half really isn't long enough. We did all of the other bits but they barely had a go in the soft play. There is also a cafe on site and if our time wasn't limited it's likely we would have eaten there and then carried on playing. Instead we ate at Five Guys which is just outside.
The kids enjoyed themselves and I suspect they will ask to go again. If we did return it would be a special treat. The cost for us as a family of four would be £40 (£36 if we didn't want to do the Dinosaur Escape). £10 of that is paying for the adults which I think all parents resent. The prices might seem more reasonable if you could stay all day but with the hour and a half limit, plus the unmanned go karts meaning my kids spent quite a bit of their time waiting, it is just too expensive, which is a shame as it's really great.
I hope you found our Dinotropolis review useful, you can also check out our review of the Gulliver's Land Santa Sleepover.