Crabbing with kids is great fun, not just for the kids, but for the adults too, it's a great way to spend family time together. There is something addictive about catching crabs and while it takes a bit of patience, it's much easier than catching fish. In this post we'll look at how to go crabbing for beginners, the equipment you'll need for crabbing as well as the best places to go crabbing in the UK.
This post contains affiliate links (identified with a *) I earn a commisson from qualifying purchases
Crabbing Equipment
If you want to go crabbing with kids you'll need a few things but luckily crabbing equipment isn't expensive.
Crabbing Lines
The main thing you'll need is a crabbing line*. If you're going to a popular crabbing spot you might be able to buy one in a local shop but if you like to be prepared (and prefer not to pay inflated tourist prices) then you can buy crabbing lines cheaply on Amazon. A crabbing line is essentially a long piece of fishing line wrapped around a plastic handle with a "bait bag" on the end where you can put whatever bait you decide to use (we'll be discussing the best crabbing bait shortly). They also have a weight attached to help them drop low into the water.
Catching Crabs with Fishing Rods
As an alternative to a crabbing line you might consider these fishing rods designed for crabbing* which have a peg at the end to hold your bait. I wouldn't say they were more successful than the classic crabbing lines, and will only work with some types of bait, but my children loved the novelty of holding a fishing rod.
Incidentally, you shouldn't ever catch crabs with a fishing line with a hook as these will injure the crabs.
Catching Crabs with Nets
You can buy crabbing nets* which are nets on a thicker fishing line with a bait bag or some other way to attach your bait. The crabs swim in to get the bait and are then lifted out in the net. This is a very easy way to catch crabs, probably too easy for older children but might be worth considering if you're crabbing with young children who lack patience. There is also a risk of the crabs getting caught in the net.
A compromise is to take a separate net* with you and then when you are reeling in a crab, hold the net below it so that if it falls off it is caught in the net.
Something to Keep Your Crabs In
Once you've caught a crab you'll need somewhere to put it. A bucket or a large washing up bowl works well. The larger it is the more crabs you'll be able to keep. You can buy specific crabbing buckets* but we love these collapsable buckets* as they take up less room.
Crabbing Bait for Crabbing with Kids
As crabs live in the sea you won't be surprised to hear that fish and seafood make great crabbing bait. In popular crabbing stops you can often buy offcuts from local vendors for crabbing.
You might be more surprised to hear that bacon is actually their favourite. Smoked or unsmoked, they don't seem to be fussed, and there's no need to cook it. It works well both in bags on crabbing lines and in the pegs on the crabbing fishing rods*.
Essentially, crabs really like meat and will go for any kind you offer them. The best crabbing bait is often stuff that gone a bit smelly. Things that have gone past their use by date by a few days are likely to result in a good catch. Chicken, beef, pork, lamb, ham and other lunch meat all work fine.
How to Catch Crabs with a Line
Before you start, half fill your container for keeping your crabs in with sea water. Add some seaweed or similar to create some shade for them.
Unwind your crabbing line* to give access to your bait bag and add your bait to the bag. If you've ended up with a crabbing line that doesn't have a bait bag (or it has become broken or lost) then you can use an old pair of tights and tie that to the line.
If your line doesn't have a weight, add a heavy stone to the bait bag to help it sink down in the water. Drop the bait bag into the water, letting out the line until it won't sink anymore.
You can either hold the line taught so you can feel if something is nibbling at your bait or just leave it to sit for a few minutes.
When you want to check if you've caught something, very slowly reel the line upwards. If you have a net, keep it close by so that you can hold it underneath if a crab is on your bait to stop it dropping back into the water.
If you've caught a crab, pop it in your bucket, if not, have another a go.
How to Look After Your Crabs
Once you've caught some crabs it's important to take care of them. Crabbing with kids can be a great opportunity to teach them about animal welfare.
Firstly, make sure you don't overcrowd them, there should be enough room for them to each have their own space. You should include seaweed or other plant matter so they can get some shade and if you keep them more than an hour you should change the water.
If you see fights between the crabs then should release some or all of them. When you release them, do it gently at the level of the water, don't drop them back in from a height.
Crabbing How to: Frequently Asked Questions
Here we'll answer some questions you might have about crabbing with kids.
Can you Eat the Crabs You Catch?
No, the crabs you catch when crabbing in the UK will be shore crabs with aren't edible. Enjoy watching them for a little while then gently release them back into the water.
Do you Need to be Quiet when you go Crabbing?
No. One of the reasons crabbing with kids is great is because there's no need for them to be quiet like they do if you take them fishing.
What is the Best Time for Crabbing?
Ideally you want to try and do your crabbing an hour either side of high tide. In popular crabbing spots you might find the crabs have had enough to eat later in the day.
What Makes a Good Crabbing Spot?
Crabs are found in water with that is deep, but not very deep, so harbours, piers and quays are usually good places to go crabbing.
Is Crabbing with Kids Safe?
As crabbing takes pace near deep water you'll need to keep a close eye on your children, particularly if they aren't able to swim. You might consider life jackets for them. The crabs themselves can nip with their claws so watch out for little ones sticking their fingers in the crab bucket. If you pick them up, do it from behind so your fingers don't get pinched.
What Do You Need for Crabbing?
At a minimum, you'll need a crabbing line* and some bait. If you don't intend to keep your crabs, then you don't need anything else.
Can You Make Your Own Crabbing Line?
You can make your own crabbing line with a piece of fishing line (wrap it around a stick to stop it getting tangled) and the foot from an old pair of tights to act as a bait bag. Just add a heavy stone as a weight and you're ready to go.
Is there a Crabbing Season on the UK?
You can go crabbing with kids to catch shore crabs at any time of the year in the UK.
Do you Need a License to go Crabbing in the UK?
No, the crabs you catch aren't edible, you don't require a license.
How do you Catch Crabs on the beach?
If you want to catch crabs on the beach you can often do so in rock pools. These will be much smaller crabs and you won't need any equipment, you'll just be able to gently pick them up and put them in your bucket. There are some beaches where you can catch larger crabs at high tide using crab lines, for example, West Mersea beach in Essex.
Where Can You Go Crabbing in the UK?
Below are some of the best places to go crabbing with kids in the the UK.
Crabbing in Devon
Brixham TQ5
Lots of areas to go crabbing and there's a fabulous pirate ship for the little ones to explore. You can also catch a boat across to Paignton or Torquay. Plenty of little shops and the best fish and chips as it's still a very busy fishing port. Parking is TQ5 8DY ideal short walk into centre. Julie from Cantwells Cabin
Axmouth harbour in Seaton
Parking is either free on the main road or a small charge along the beachfront which is a couple of minutes walk. There are ice cream and snack stalls also on the beachfront or a small cafe by the harbour although opening times vary. Toilets are by Tesco or further along the seafront. Combine it with a trip to one of two dinosaur themed play parks or mini golf, or a ride on Seaton Tramway which runs along the estuary. Hayley from See, Stay, Explore
Crabbing in Dorset
West Bay
It's a lovely little harbour village with plenty of pay and display car parks that are fairly priced (around £1 for an hour). It's easily accessible and the harbour has lots of space for grabbing as well as benches to sit on around it. There are also lots of small village shops including cafes and stands where you can get food, drinks, ice creams plus little shops to buy grabbing gear or gifts, all reasonable in price too.
We went twice and caught lots of crabs and everyone we saw had been successful in catching something. Great fun and a lovely little village. Jess from Tantrums to Smiles
Mudeford Quay, BH23 4AB
Parking costs £3.50 for two hours. There is a large area for crabbing along the harbour wall, a pub, cafe, public toilets and small shop. Kara from Are We Nearly There Yet
There's a large car park right next to the quay side but it does get busy. There's plenty of space for crabbing along the quay walls and a pub, toilets and takeaway options next to the car park. If you forget your tools or bait there's also a shop to buy everything you need. A short walk away is a nice beach with restaurants and more takeaway options. Angela from Exploring Dorset
Lyme Regis harbour
It's a lovely place to explore, you can walk across the harbour wall and get splashed by the waves, there are lots of little shops and even an aquarium where you can put your hand in the tank for fish kisses! My 2 also held a star fish there. Crabbing things, including bait, are all sold in local shops and there's lots of carparking available right next to the harbour itself (Monmouth beach) with public toilets. Rachael from Coffee and Life
Crabbing in Cornwall
Padstow
The beautiful and busy fishing port which has now become synonymous with great food (think Paul Ainsworth and Rick Stein) and shopping, has always been a go to spot for crabbing. It is full of traditional Cornish pasty shops, fish and chips, ice creams and pubs. You're never too far away from all that you might want, including shops selling crabbing equipment. The fishing port is quite small and parking can be an issue as it's so popular with tourists, particularly during the peak summer season. I suggest using the park and ride just on the outskirts of town at these times, followed by a short walk to the harbour. Rachel from Children of Wanderlust
Crabbing in Essex
Brightlingsea Pier CO7 0AX
The pier is by the yacht club and there's a good selection of pubs, cafes and shops around the village. It's a short walk from the pier to a beach with colourful beach huts and a lido. Erica
Promenade Park, Maldon CM9 5JQ
Promenade Park has a miniature boating and crabbing lake that is great for catching crabs, particularly with younger children. There is also a splash park, a playground, crazy golf, a skatepark and sandpit. You'll also find plenty of places to buy ice cream so it's a great day out all round.
Crabbing in Kent
Whitstable
The best parking is Whitstable Junior School Charity Car Park CT5 1DB (this car park is open weekends, Bank Holidays and during school holiday) which is £5 for the whole day and the money goes to charity and the school. Or you can park in Harbour Car Park CT5 1AB. There's lots of cafes, pubs and public toilets near the harbour. There's lots of shops on the high street which isn't far from the harbour and further out there are playgrounds and a castle. Louise from Thimble and Twig
Crabbing in Norfolk
The harbour, wells-next-the sea, NR23 1AH
This is literally on the parking at the quayside for the town, and a five minute walk from the start of long stretch of beach walks and towards the pine woods. Bucket and bait available at shops across the road, rent them or you can use your own. There are railings for smaller children and a wider open area at the top of the quay. Toilets just across the road too, as well as Fish and chip shops and cafes. I still remember crabbing there 27 years ago! Emma from Ready Freddie Go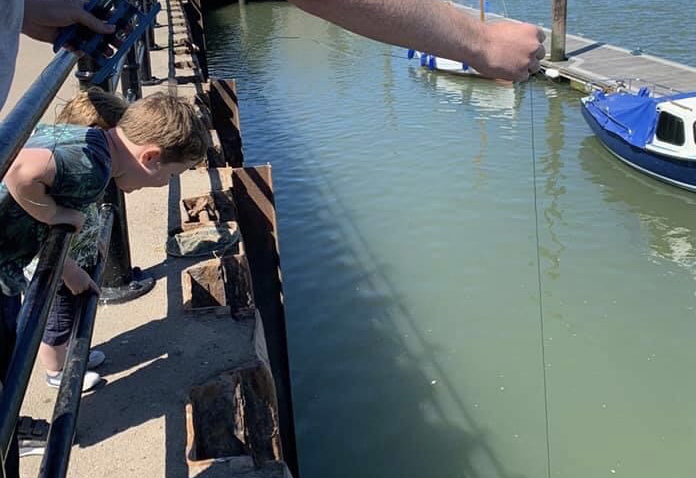 Cromer
Cromer is famous for its crabs. They even have a Crab Festival where you can take part in the World Pier Crabbing Championships. Even if you're not ready for competitive crabbing, Cromer Pier is still a great place to try it for the first time. Buckets, lines and bait are available from gift shops on the pier, and dozens of people line both sides, proudly showing off their catches.
There are several car parks near the seafront in Cromer. The closest to Cromer Pier is Runton Road. There are public toilets and a cafe on the pier itself, and other amusements nearby. Liona from Travels with Ted

Crabbing in Somerset
Clevedon
Clevedon has a pebble beach and with lots of low rocks for scrambling. There are lots of rock pools left at low tide for crabbing. Park in the Salt House fields car park next to the Marine Lake, BS21 7TU (£4.00 for four hours). The Salt house playing fields have a miniature railway, a skateboard park, crazy golf and lots of play equipment. There are toilets and several cafes and pubs near by. The marine lake allows free wild swimming and paddleboarding. Ann from The Platinum Line
Crabbing in Suffolk
Walberswick
It's super popular for crabbing and even hosts annual championships! It's a lovely little seaside village, with tearooms and traditional inns to visit for cream teas or lunch. There' are public toilets and a large car park (£3 for up to 4 hours). You can buy all the crabbing gear you need from the little van there. We had a fabulous time and would definitely go back! Hannah from Hannah and the Twiglets
Crabbing in Wales
Shell Island, Barmouth
There is parking on Shell ISland, although you do need to buy a day pass and be wary of the tide times to be able to cross the causeway. Shell Island is a popular camping site however there is plenty to do to visit for the day. Crabbing is just a small part of what you can do, there is a lovely beach to spot dolphins, go rock pool searching, finding shells and go swimming! There is a restaurant/cafe, gift shop, toilets and showers Jaymee from The Mum Diaries
Beaumaris Pier on Anglesey
Beaumaris Pier on Anglesey is perfect for crabbing. The lower railings make it easier for children to thread their lines through and there are also seats and a shelter. You can buy bait, buckets and line there or take your own. Alongside crabbing, Beaumaris is an absolutely beautiful place to visit and perfect for a family day out! The views across the Menai Strait are stunning and there is a small beach on either side of the pier. You can visit Beaumaris Castle (which my children love), Beaumaris Gaol and Beaumaris Courthouse and stroll up and down the main street, Castle Street, and its side streets, popping into each of the independent shops. There are cafes, restaurants and pubs and I can highly recommend getting an ice-cream from the Red Boat ice-cream parlour! There are public toilets in the centre of the town too. There are 3 main car-parks in Beaumaris, the main one being on Beaumaris Green (postcode LL58 8RA) which is a short walk from the pier. Ella from Typical Mummy
Crabbing in Yorkshire
Staithes
Beautiful little village on the East coast where Old Jack's Boat is/was filmed. The little harbour is perfect for crabbing. Lots of parking at the top of the hill near the visitor centre, not so much in the village itself and what is available is minimal time. Café, two pubs, craft shops and a decent little sweet shop too. Joseph from Thrifty Chap
Enjoyed this post? Why not pin it for later!